Help!
Keep the Archive Alive!
Shinto and Japanese Religions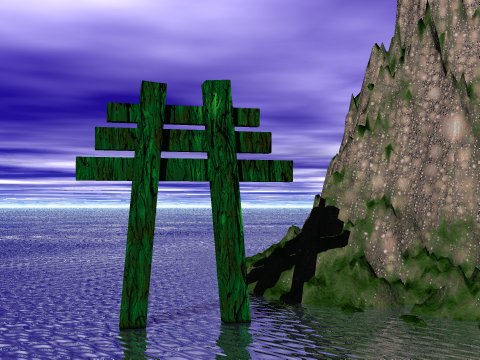 ---
This section has scriptures of the Shinto religion, as well as other texts that relate to the spirituality of Japan, which combines Shinto, Buddhism, Confucianism, Animism and other themes. There is also a collection of Ainu Texts.
---
Shinto Scripture

 The Kojiki
Basil Hall Chamberlain, tr. [1919]
The full annotated version of one of the two Japanese national epics.

 The Kojiki
Basil Hall Chamberlain, tr. [1919]
An abridged version of the Chamberlain translation.
The Nihongi (excerpts), translated by W.G. Ashton [1896]


 Nihongi Part 1


 Nihongi Part 2


 Nihongi Part 3


 Nihongi Part 4


 The Yengishiki or Shinto Rituals

 Kogoshui: Gleanings from Ancient Stories
translated by Genchi Katō and Hikoshirō Hoshino [1926]. Legendary Shinto tales from a primary source

---
Japanese Culture, Spirituality and Folklore

 The Shundai Zatsuwa (A Japanese Philosopher)
By Kyuso (Muro Naokiyo), translated by George William Knox [1892]
An account of Japanese Neo-Confucian thought.
LAFCADIO HEARN


 Gleanings In Buddha-Fields
by Lafcadio Hearn [1897].


 In Ghostly Japan
by Lafcadio Hearn [1899].


 Kwaidan
by Lafcadio Hearn [1904].


 Japan, An Attempt At Interpretation
by Lafcadio Hearn [1904]
One of Hearn's last books, this substantial volume is a highly readable history of Shinto in Japan, and its interaction with Buddhism and Christianity; highly recommended for outsiders who want to understand the Japanese sprit and culture.
KAKUZO OKAKURA


 The Ideals of the East
by Kakuzo Okakura [1904]
The evolution of Japanese art and its relationship to Buddhism.


 The Book of Tea
by Kakuzo Okakura [1906]
The aesthetics of the Japanese Tea Ceremony, and its connection to the Japanese world-view as a whole.

 Genji Monogatari
by Lady Murasaki Shikibu tr. by Suematsu Kencho [1900]
The first English translation of the classic tale of 10th century Japanese courtly love.

 Bushido, The Soul of Japan
by Inazo Nitobe [1905].
This short and very readable book describes the code of honor of the Samurai and Japanese feudalism, which is essential to understanding many aspects of Japanese society and history.

 A Hundred Verses from Old Japan
(the Hyakunin-isshu), translated by William N. Porter [1909]
A wonderful thousand-year-old collection of Tanka poetry.

 Shinran and His Work: Studies in Shinshu Theology
by Arthur Lloyd [1910]
A Christian scholar explores Shinshu Buddhism. Includes text and translation of the Shoshinge of Shinran Shonen, with extended commentary.

 The Creed of Half Japan
by Arthur Lloyd [1911]
A comprehensive history of Mahayana Buddhism, particularly in Japan, and possible ties to Gnosticism and early Christianity. Includes two translated texts from the Nichiren school.

 Buddhist Psalms
by S. Yamabe and L. Adams Beck [1921]
A key Pure Land text, by the founder of the most popular form of Buddhism in Japan.

 Japanese Fairy Tales
Second Series. By Teresa Peirce Williston, Illustrated by Sanchi Ogawa [1911]

 Principal Teachings of the True Sect of Pure Land
by Yejitsu Okusa [1915]
The history and practice of Pure Land Buddhism in Japan.

 Ancient Tales and Folk-lore of Japan
by Richard Gordon Smith [1918]
An anthology of Japanese 'Magical Realist' legends and folklore.

 The Nō Plays of Japan
by Arthur Waley [1921].
Translations of a selection of Nō dramas, which have deep connections with Japanese Buddhism, Shinto, and Japanese folklore.

 The Story of Gio
from the Heike Monogatari, retold by Ridgely Torrence [1935]

 Japanese Haiku
translated by Peter Beilenson [1955]
A collection of 220 Japanese Haiku.
---
Ainu

 Ainu Texts
Ainu resources at sacred-texts.