Quran CD-ROM 9.0
---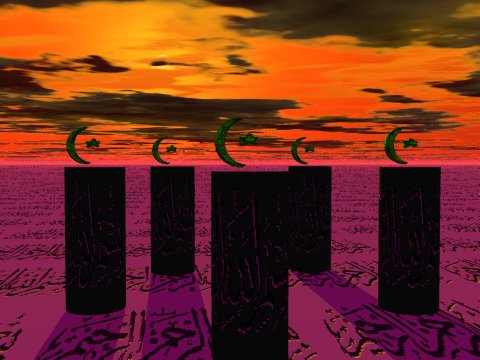 NOTE

Please note that the link to 'buy now' sent out in the first email announcement had a minor error. If you ordered through the first email sent on April 11, 2010, you may have received an invoice which states that it is for the Bible disk. However the sku is correct and your order will be filled with the Quran disk if the sku reads 'cdq9'. Thanks for your orders. The links on this page are correct.
---
The Quran CD-ROM 9.0 is the newest CD-ROM from sacred-texts.com. For just $9.95 you get a comprehensive digital edition of the Quran. Our Quran CD-ROM also includes includes a wide range of books on Islamic culture, literature, and history. Now, you can own a complete Quran research library, for about the price of a fast-food lunch.

No need to install any software! Other products require extensive installation procedures and take up lots of room on your hard disk. This disk runs on your PC or Macintosh using any standard browser. There is no installation or footprint on your system, so it is ideal if you have to be discrete or are traveling. If you want, you can selectively copy the contents of the disk to your hard drive, and use free tools such as Google Desktop to set up full-text search.

At a low, low price of $9.95, there is no reason not to own this amazing Quran CD-ROM.

PRODUCT FEATURES

This Quran CD-ROM includes the complete text of the Quran in Arabic (including Unicode, Gif and a pronunciation guide). It includes several English translations, including the highly respected Yusuf Ali version, plus dozens of additional books on Islamic culture.

REQUIREMENTS: A PC or Macintosh with a CD-ROM drive and a standard Web browser. The CD-ROM does not require a DVD-ROM capable drive, so it will run on very basic or older computers.

NOTE: Shipping worldwide is included in the price of the Quran CD-ROM. You pay just $9.95 per disk! Shipping is via first class postal mail. Disks are sent in high-quality Tyvek sleeves.

If you are on a budget or simply want a top resource for the study of the Quran, on one easy-to-use CD-ROM, the Quran CD-ROM 9.0 is a must buy!
---
BUY THE QURAN CD-ROM NOW USING YOUR CREDIT OR DEBIT CARD AT PAYPAL
Use the shopping cart for more payment options, including mail order and adding additional products to your order.
---
Contents by Title
Contents by Subject