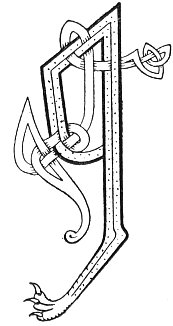 AN ainm Athar caoimh,
An ainm Mic na caoidh,
An ainm Spioraid Naoimh.
Amen.
Muir mor, muir ruadh,
Neart mara, neart cuain,
Naoi tobraiche Mhic-a-Lir,
Cobhair ort a shil,
Casg a chur air t-fhuil,
Ruith a chur air t-fhual.
[An t-ainm.]
IN name of the Father of love,
In name of the Son of sorrow,
In name of the Sacred Spirit.
Amen.
Great wave, red wave,
Strength of sea, strength of ocean,
The nine wells of Mac-Lir,
Help on thee to pour,
Put stop to thy blood,
Put flood to thy urine.
[The name.]