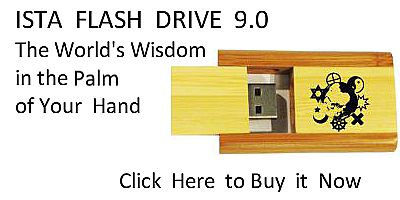 Sacred Texts
Islam
Index
Hypertext Qur'an
Unicode
Palmer
Pickthall
Yusuf Ali English
Rodwell
Sūra XXII.: Ḥajj, or The Pilgrimage. Index
Previous
Next
---


The Holy Quran, tr. by Yusuf Ali, [1934], at sacred-texts.com
---
Sūra XXII.: Ḥajj, or The Pilgrimage.
Section 4
---

26. Wa-ith bawwa/na li-ibraheema makana albayti an la tushrik bee shay-an watahhir baytiya liltta-ifeena waalqa-imeena waalrrukkaAAi alssujoodi
26. Behold! We gave the site,
To Abraham, of the (Sacred) House,
(Saying): "Associate not anything
(In worship) with Me;
And sanctify My House
For those who compass it round,
Or stand up,
Or bow, or prostrate themselves
(Therein in prayer).
---

27. Waaththin fee alnnasi bialhajji ya/tooka rijalan waAAala kulli damirin ya/teena min kulli fajjin AAameeqin
27. "And proclaim the Pilgrimage
Among men: they will come
To thee on foot and (mounted)
On every kind of camel,
Lean on accout of journeys
Through deep and distant
Mountain highways;
---

28. Liyashhadoo manafiAAa lahum wayathkuroo isma Allahi fee ayyamin maAAloomatin AAala ma razaqahum min baheemati al-anAAami fakuloo minha waatAAimoo alba-isa alfaqeera
28. "That they may witness
The benefits (provided) for them,
And celebrate the name
Of God, through the Days
Appointed, over the cattle
Which He has provided for them
(For sacrifice): then eat ye
Thereof and feed the distressed
Ones in want.
---

29. Thumma lyaqdoo tafathahum walyoofoo nuthoorahum walyattawwafoo bialbayti alAAateeqi
29. "Then let them complete
The rites prescribed
For them, perform their vows,
And (again) circumambulate
The Ancient House."
---

30. Thalika waman yuAAaththim hurumati Allahi fahuwa khayrun lahu AAinda rabbihi waohillat lakumu al-anAAamu illa ma yutla AAalaykum faijtaniboo alrrijsa mina al-awthani waijtaniboo qawla alzzoori
30. Such (is the Pilgrimage):
Whoever honours the sacred
Rites of God, for him
It is good in the sight
Of his Lord. Lawful to you
(For food in Pilgrimage) are cattle,
Except those mentioned to you
(As exceptions): but shun
The abomination of idols,
And shun the word
That is false,—
---

31. Hunafaa lillahi ghayra mushrikeena bihi waman yushrik biAllahi fakaannama kharra mina alssama-i fatakhtafuhu alttayru aw tahwee bihi alrreehu fee makanin saheeqin
31. Being true in faith to God,
And never assigning partners
To Him: if anyone assigns
Partners to God, he is
As if he had fallen
From heaven and been snatched up
By birds, or the wind
Had swooped (like a bird
On its prey) and thrown him
Into a far-distant place.
---

32. Thalika waman yuAAaththim shaAAa-ira Allahi fa-innaha min taqwa alquloobi
32. Such (is his state): and
Whoever holds in honour
The Symbols of God,
(In the sacrifice of animals),
Such (honour) should come truly
From piety of heart.
---

33. Lakum feeha manafiAAu ila ajalin musamman thumma mahilluha ila albayti alAAateeqi
33. In them ye have benefits
For a term appointed:
In the end their place
Of sacrifice is near
The Ancient House.