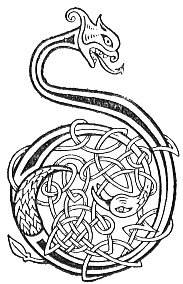 DIA faram, Dia fodham,
Dia romham, Dia am dheoghainn,
Mis air do shlighe Dhia,
Thus, a Dhia, air mo luirg.
Frith rinn Muire d'a Mac,
Iobair Bride ri a glac,
Am fac thu i, a Righ nan dul?--
Ursa Righ nan dul gum fac.
Frith Muire da muirichinn fein,
Trath dha bhi re ri cuairt,
Fios firinn gun fios breuige,
Gum faic mi fein na bheil uam.
Mac Muire min-ghil, Righ nan dul,
A shulachadh domh-s' na bheil uam,
Le gras nach falnaich, mu m' choinneamh,
Gu brath nach smalaich 's nach doillich.
GOD over me, God under me,
God before me, God behind me,
I on Thy path, O God,
Thou, O God, in my steps.
The augury made of Mary to her Son,
The offering made of Bride through her palm,
Sawest Thou it, King of life?--
Said the King of life that He saw.
The augury made by Mary for her own offspring,
When He was for a space amissing,
Knowledge of truth, not knowledge of falsehood,
That I shall truly see all my quest.
Son of beauteous Mary, King of life,
Give Thou me eyes to see all my quest,
With grace that shall never fail, before me,
That shall never quench nor dim.