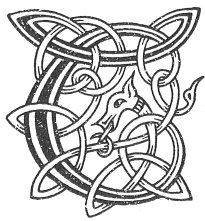 THAINIG thugam cobhair,
Moire gheal is Bride;
Mar a rug Anna Moire,
Mar a rug Moire Criosda,
Mar a rug Eile Eoin Baistidh
Gun mhar-bhith dha dhi,
Cuidich thusa mise 'm asaid,
Cuidich mi a Bhride!
Mar a gheineadh Criosd am Moire
Comhliont air gach laimh,
Cobhair thusa mise, mhoime,
An gein a thoir bho 'n chnaimh;
'S mar a chomhn thu Oigh an t-solais,
Gun or, gun odh, gun ni,
Comhn orm-sa, 's mor m' othrais,
Comhn orm a Bhride!
THERE came to me assistance,
Mary fair and Bride;
As Anna bore Mary,
As Mary bore Christ,
As Eile bore John the Baptist
Without flaw in him,
Aid thou me in mine unbearing,
Aid me, O Bride!
As Christ was conceived of Mary
Full perfect on every hand,
Assist thou me, foster-mother,
The conception to bring from the bone;
And as thou didst aid the Virgin of joy,
Without gold, without corn, without kine,
Aid thou me, great is my sickness,
Aid me, O Bride!