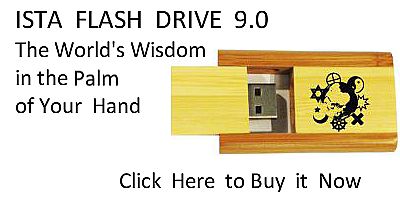 Sacred Texts
Legends/Sagas
Celtic
Barddas
Index
Next
---
Buy this Book at Amazon.com
---


The Barddas of Iolo Morganwg, Vol. I., ed. by J. Williams Ab Ithel, [1862], at sacred-texts.com
---

Y GWIR YN ERBYN Y BYD.
BARDDAS;
OR, A COLLECTION OF ORIGINAL DOCUMENTS, ILLUSTRATIVE OF THE THEOLOGY, WISDOM, AND USAGES OF
The Bardo-Druidic System
OF THE ISLE OF BRITAIN.
WITH
TRANSLATIONS AND NOTES.
BY
THE REV. J. WILLIAMS AB ITHEL, M. A.,
RECTOR OF LLANYMOWDDWY, MERIONETHSHIRE;
AUTHOR OF "THE ECCLESIASTICAL ANTIQUITIES OF THE CYMRY." &c., &c.
PUBLISHED FOR
The Welsh Mss. Society
VOL. I.
LLANDOVERY:
PUBLISHED BY D. J. RODERIC; LONDON: LONG IAN & CO.
MDCCCLXII.
[1862]
NOTICE OF ATTRIBUTION
Scanned at sacred-texts.com, November 2005. Proofed and edited by John Bruno Hare. This text is in the public domain in the United States because it was published prior to January 1st, 1923; since the author died in 1826, it is also in the public domain worldwide. These files may be used for any non-commercial purpose, provided this notice of attribution is left intact in all copies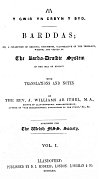 Click to enlarge
Title Page


Y GWIR YN ERBYN Y BYD.
I'R
BEIRDD, DERWYDDON, AC OFYDDION,
Y CYFLWYNIR
Y CASGLIAD HWN O WYBODAU A DEFODAU
Barddas yr Hen Cymry
GAN EU FFYDDLAWN WASANAETHWR,
AB ITHEL, B. B. D.
YN ENW DUW A PHOB DAIONI.


Click to enlarge
Verso

---
Next: Welsh Manuscript Society