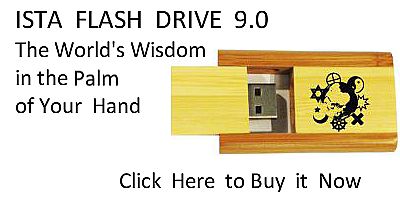 Sacred Texts
Islam
Index
Hypertext Qur'an
Unicode
Palmer
Pickthall
Yusuf Ali English
Rodwell
Sūra LX.: Mumtaḥana, or the Woman to be Examined. Index
Previous
Next
---


The Holy Quran, tr. by Yusuf Ali, [1934], at sacred-texts.com
---
Sūra LX.: Mumtaḥana, or the Woman to be Examined.
Section 2
---

7. AAasa Allahu an yajAAala baynakum wabayna allatheena AAadaytum minhum mawaddatan waAllahu qadeerun waAllahu ghafoorun raheemun
7. It may be that God
Will grant love (and friendship)
Between you and those whom
Ye (now) hold as enemies.
For God has power
(Over all things); And God is
Oft-Forgiving, Most Merciful.
---

8. La yanhakumu Allahu AAani allatheena lam yuqatilookum fee alddeeni walam yukhrijookum min diyarikum an tabarroohum watuqsitoo ilayhim inna Allaha yuhibbu almuqsiteena
8. God forbids you not,
With regard to those who
Fight you not for (your) Faith
Nor drive you out
Of your homes,
From dealing kindly and justly
With them: For God loveth
Those who are just.
---

9. Innama yanhakumu Allahu AAani allatheena qatalookum fee alddeeni waakhrajookum min diyarikum wathaharoo AAala ikhrajikum an tawallawhum waman yatawallahum faola-ika humu alththalimoona
9. God only forbids you,
With regard to those who
Fight you for (your) Faith,
And drive you out
Of your homes, and support
(Others) in driving you out,
From turning to them
(For friendship and protection).
It is such as turn to them
(In these circumstances),
That do wrong.
---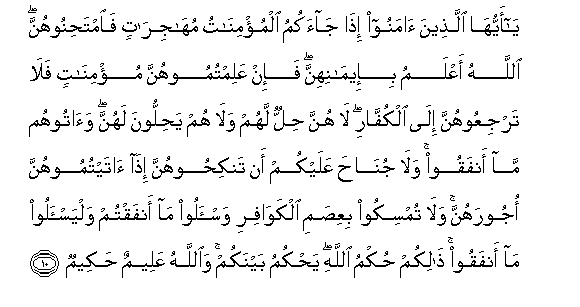 10. Ya ayyuha allatheena amanoo itha jaakumu almu/minatu muhajiratin faimtahinoohunna Allahu aAAlamu bi-eemanihinna fa-in AAalimtumoohunna mu/minatin fala tarjiAAoohunna ila alkuffari la hunna hillun lahum wala hum yahilloona lahunna waatoohum ma anfaqoo wala junaha AAalaykum an tankihoohunna itha ataytumoohunna ojoorahunna wala tumsikoo biAAisami alkawafiri wais-aloo ma anfaqtum walyas-aloo ma anfaqoo thalikum hukmu Allahi yahkumu baynakum waAllahu AAaleemun hakeemun
10. O ye who believe!
When there come to you
Believing women refugees,
Examine (and test) them:
God knows best as to
Their Faith: if ye ascertain
That they are Believers,
Then send them not back
To the Unbelievers.
They are not lawful (wives)
For the Unbelievers, nor are
The (Unbelievers) lawful (husbands)
For them. But pay
The Unbelievers what they
Have spent (on their dower).
And there will be no blame
On you if ye marry them
On payment of their dower
To them. But hold not
To the guardianship of
Unbelieving women: ask
For what ye have spent
On their dowers, and let
The (Unbelievers) ask for
What they have spent
(On the dowers of women
Who come over to you).
Such is the command
Of God: He judges
(With justice) between you.
And God is Full of
Knowledge and Wisdom.
---

11. Wa-in fatakum shay-on min azwajikum ila alkuffari faAAaqabtum faatoo allatheena thahabat azwajuhum mithla ma anfaqoo waittaqoo Allaha allathee antum bihi mu/minoona
11. And if any
Of your wives deserts you
To the Unbelievers,
And ye have an accession
(By the coming over of
A woman from the other side),
Then pay to those
Whose wives have deserted
The equivalent of what they
Had spent (on their dower).
And fear God,
In Whom ye believe.
---

12. Ya ayyuha alnnabiyyu itha jaaka almu/minatu yubayiAAnaka AAala an la yushrikna biAllahi shay-an wala yasriqna wala yazneena wala yaqtulna awladahunna wala ya/teena bibuhtanin yaftareenahu bayna aydeehinna waarjulihinna wala yaAAseenaka fee maAAroofin fabayiAAhunna waistaghfir lahunna Allaha inna Allaha ghafoorun raheemun
12. O Prophet!
When believing women come
To thee to take the oath
Of fealty to thee, that they
Will not associate in worship
Any other thing whatever
With God, that they
Will not steal, that they
Will not commit adultery
(Or fornication), that they
Will not kill their children,
That they will not utter
Slander, intentionally forging
Falsehood, and that they
Will not disobey thee
In any just matter,
Then do thou receive
Their fealty, and pray to God
For the forgiveness (of
Their sins): for God is
Oft-Forgiving, Most Merciful.
---

13. Ya ayyuha allatheena amanoo la tatawallaw qawman ghadiba Allahu AAalayhim qad ya-isoo mina al-akhirati kama ya-isa alkuffaru min as-habi alquboori
13. O ye who believe!
Turn not (for friendship)
To people on whom
Is the Wrath of God.
Of the Hereafter they are
Already in despair, just as
The Unbelievers are
In despair about those
(Buried) in graves.