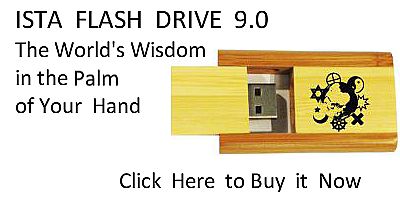 Sacred Texts
Islam
Index
Hypertext Qur'an
Unicode
Palmer
Pickthall
Yusuf Ali English
Rodwell
Sūra LX.: Mumtaḥana, or the Woman to be Examined. Index
Previous
Next
---


The Holy Quran, tr. by Yusuf Ali, [1934], at sacred-texts.com
---
Sūra LX.: Mumtaḥana, or the Woman to be Examined.
Section 1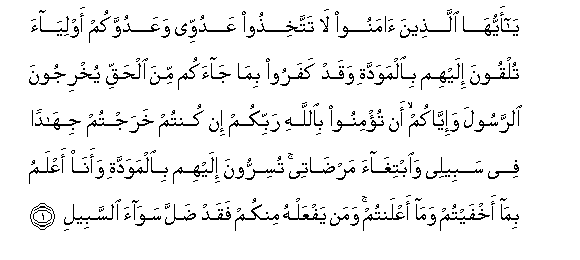 1. Ya ayyuha allatheena amanoo la tattakhithoo AAaduwwee waAAaduwwakum awliyaa tulqoona ilayhim bialmawaddati waqad kafaroo bima jaakum mina alhaqqi yukhrijoona alrrasoola wa-iyyakum an tu/minoo biAllahi rabbikum in kuntum kharajtum jihadan fee sabeelee waibtighaa mardatee tusirroona ilayhim bialmawaddati waana aAAlamu bima akhfaytum wama aAAlantum waman yafAAalhu minkum faqad dalla sawaa alssabeeli
1. O ye who believe!
Take not My enemies
And yours as friends
(Or protectors),—offering them
(Your) love, even though
They have rejected the Truth
That has come to you,
And have (on the contrary)
Driven out the Prophet
And yourselves (from your homes),
(Simply) because ye believe
In God your Lord!
If ye have come out
To strive in My Way
And to seek My Good Pleasure,
(Take them not as friends),
Holding secret converse
Of love (and friendship)
With them: for I know
Full well all that ye
Conceal and all that ye
Reveal. And any of you
That does this has strayed
From the Straight Path.
---

2. In yathqafookum yakoonoo lakam aAAdaan wayabsutoo ilaykum aydiyahum waalsinatahum bialssoo-i wawaddoo law takfuroona
2. If they were to get
The better of you,
They would behave to you
As enemies, and stretch forth
Their hands and their tongues
Against you for evil;
And they desire that ye
Should reject the Truth.
---

3. Lan tanfaAAakum arhamukum wala awladukum yawma alqiyamati yafsilu baynakum waAllahu bima taAAmaloona baseerun
3. Of no profit to you
Will be your relatives
And your children
On the Day of Judgment:
He will judge between you:
For God sees well
All that ye do.
---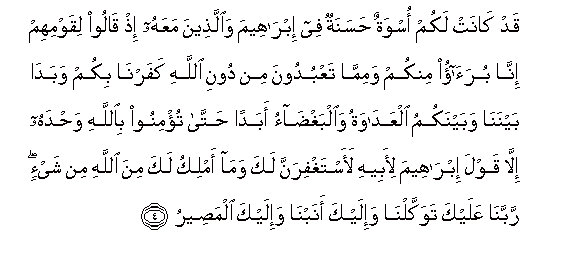 4. Qad kanat lakum oswatun hasanatun fee ibraheema waallatheena maAAahu ith qaloo liqawmihim inna buraao minkum wamimma taAAbudoona min dooni Allahi kafarna bikum wabada baynana wabaynakumu alAAadawatu waalbaghdao abadan hatta tu/minoo biAllahi wahdahu illa qawla ibraheema li-abeehi laastaghfiranna laka wama amliku laka mina Allahi min shay-in rabbana AAalayka tawakkalna wa-ilayka anabna wa-ilayka almaseeru
4. There is for you
An excellent example (to follow)
In Abraham and those with him,
When they said
To their people:
"We are clear of you
And of whatever ye worship
Besides God: we have rejected
You, and there has arisen,
Between us and you, enmity
And hatred for ever,—unless
Ye believe in God
And Him alone":
But not when Abraham
Said to his father:
"I will pray for forgiveness
For thee, though I have
No power (to get) aught
On thy behalf from God."
(They prayed): "Our Lord!
In Thee do we trust,
And to Thee do we turn
In repentance: to Thee
Is (our) final Goal.
---

5. Rabbana la tajAAalna fitnatan lillatheena kafaroo waighfir lana rabbana innaka anta alAAazeezu alhakeemu
5. "Our Lord! Make us not
A (test and) trial
For the Unbelievers,
But forgive us, our Lord!
For Thou art the Exalted
In Might, the Wise."
---

6. Laqad kana lakum feehim oswatun hasanatun liman kana yarjoo Allaha waalyawma al-akhira waman yatawalla fa-inna Allaha huwa alghanniyyu alhameedu
6. There was indeed in them
An excellent example for you
To follow,—for those
Whose hope is in God
And in the Last Day.
But if any turn away,
Truly God is Free of all
Wants, Worthy of all Praise.