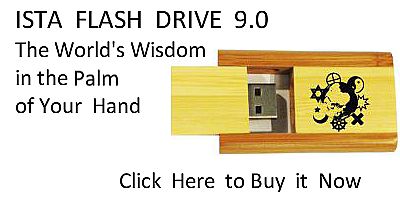 Sacred Texts
Islam
Index
Hypertext Qur'an
Unicode
Palmer
Pickthall
Yusuf Ali English
Rodwell
Sūra LI.: Zāriyāt, or the Winds That Scatter. Index
Previous
Next
---


The Holy Quran, tr. by Yusuf Ali, [1934], at sacred-texts.com
---
Sūra LI.: Zāriyāt, or the Winds That Scatter.
Section 2
---

24. Hal ataka hadeethu dayfi ibraheema almukrameena
24. Has the story
Reached thee, of the honoured
Guests of Abraham?
---

25. Ith dakhaloo AAalayhi faqaloo salaman qala salamun qawmun munkaroona
25. Behold, they entered
His presence, and said:
"Peace!" He said, "Peace"
(And thought, "These seem)
Unusual people."
---

26. Faragha ila ahlihi fajaa biAAijlin sameenin
26. Then he turned quickly
To his household, brought
Out a fatted calf,
---

27. Faqarrabahu ilayhim qala ala ta/kuloona
27. And placed it before them…
He said, "Will ye not
Eat?"
---

28. Faawjasa minhum kheefatan qaloo la takhaf wabashsharoohu bighulamin AAaleemin
28. (When they did not eat),
He conceived a fear of them.
They said, "Fear not,"
And they gave him
Glad tidings of a son
Endowed with knowledge.
---

29. Faaqbalati imraatuhu fee sarratin fasakkat wajhaha waqalat AAajoozun AAaqeemun
29. But his wife came forward
(Laughing) aloud: she smote
Her forehead and said:
"A barren old woman!"
---

30. Qaloo kathaliki qala rabbuki innahu huwa alhakeemu alAAaleemu
30. They said, "Even so
Has thy Lord spoken:
And He is full
Of Wisdom and Knowledge."
---

31. Qala fama khatbukum ayyuha almursaloona
31. (Abraham) said: "And what,
O ye Messengers,
Is your errand (now)?"
---

32. Qaloo inna orsilna ila qawmin mujrimeena
32. They said, "We have
Been sent to a people
(Deep) in sin;—
---

33. Linursila AAalayhim hijaratan min teenin
33. "To bring on, on them,
(A shower of) stones
Of clay (brimstone),
---

34. Musawwamatan AAinda rabbika lilmusrifeena
34. "Marked as from thy Lord
For those who trespass
Beyond bounds."
---

35. Faakhrajna man kana feeha mina almu/mineena
35. Then We evacuated
Those of the Believers
Who were there,
---

36. Fama wajadna feeha ghayra baytin mina almuslimeena
36. But We found not there
Any just (Muslim) persons
Except in one house:
---

37. Watarakna feeha ayatan lillatheena yakhafoona alAAathaba al-aleema
37. And We left there
A Sign for such as
Fear the Grievous Penalty.
---

38. Wafee moosa ith arsalnahu ila firAAawna bisultanin mubeenin
38. And in Moses
(Was another Sign):
Behold, We sent him
To Pharaoh, with authority
Manifest.
---

39. Fatawalla biruknihi waqala sahirun aw majnoonun
39. But (Pharaoh) turned back
With his Chiefs, and said,
"A sorcerer, or
One possessed!"
---

40. Faakhathnahu wajunoodahu fanabathnahum fee alyammi wahuwa muleemun
40. So We took him
And his forces, and
Threw them into the sea;
And his was the blame:
---

41. Wafee AAadin ith arsalna AAalayhimu alrreeha alAAaqeema
41. And in the 'Ād (people)
(Was another Sign):
Behold, We sent against them
The devastating Wind:
---

42. Ma tatharu min shay-in atat AAalayhi illa jaAAalat-hu kaalrrameemi
42. It left nothing whatever
That it came up against,
But reduced it to ruin
And rottenness.
---

43. Wafee thamooda ith qeela lahum tamattaAAoo hatta heenin
43. And in the Thamūd
(Was another Sign):
Behold, they were told,
"Enjoy (your brief day)
For a little while!"
---

44. FaAAataw AAan amri rabbihim faakhathat-humu alssaAAiqatu wahum yanthuroona
44. But they insolently defied
The Command of their Lord:
So the stunning noise
(Of an earthquake) seized
Them, even while they
Were looking on.
---

45. Fama istataAAoo min qiyamin wama kanoo muntasireena
45. Then they could not
Even stand (on their feet),
Nor could they help themselves.
---

46. Waqawma noohin min qablu innahum kanoo qawman fasiqeena
46. So were the People
Of Noah before them:
For they wickedly transgressed.