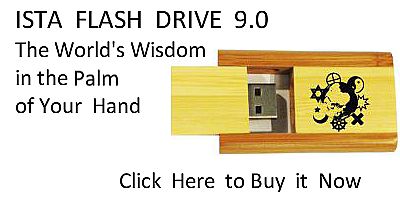 Sacred Texts
Islam
Index
Hypertext Qur'an
Unicode
Palmer
Pickthall
Yusuf Ali English
Rodwell
Sūra XXV.: Furqān, or The Criterion. Index
Previous
Next
---


The Holy Quran, tr. by Yusuf Ali, [1934], at sacred-texts.com
---
Sūra XXV.: Furqān, or The Criterion.
Section 1

1. Tabaraka allathee nazzala alfurqana AAala AAabdihi liyakoona lilAAalameena natheeran
1. Blessed is He Who
Sent down the Criterion
To His Servant, that
May be an admonition
To all creatures;—
---

2. Allathee lahu mulku alssamawati waal-ardi walam yattakhith waladan walam yakun lahu shareekun fee almulki wakhalaqa kulla shay-in faqaddarahu taqdeeran
2. He to Whom belongs
The dominion of the heavens
And the earth: no son
Has He begotten, nor has He
A partner in His dominion:
It is He Who created
All things, and ordered them
In due proportions.
---

3. Waittakhathoo min doonihi alihatan la yakhluqoona shay-an wahum yukhlaqoona wala yamlikoona li-anfusihim darran wala nafAAan wala yamlikoona mawtan wala hayatan wala nushooran
3. Yet have they taken,
Besides Him, gods that can
Create nothing but are themselves
Created; that have no control
Of hurt or good to themselves;
Nor can they control Death
Nor Life nor Resurrection.
---

4. Waqala allatheena kafaroo in hatha illa ifkun iftarahu waaAAanahu AAalayhi qawmun akharoona faqad jaoo thulman wazooran
4. But the Misbelievers say:
"Naught is this but a lie
Which he has forged,
And others have helped him
At it." In truth it is they
Who have put forward
An iniquity and a falsehood.
---

5. Waqaloo asateeru al-awwaleena iktatabaha fahiya tumla AAalayhi bukratan waaseelan
5. And they say: "Tales of
The ancients, which he has caused
To be written: and they
Are dictated before him
Morning and evening."
---

6. Qul anzalahu allathee yaAAlamu alssirra fee alssamawati waal-ardi innahu kana ghafooran raheeman
6. Say: "The (Qur-ān) was sent down
By Him Who knows
The Mystery (that is) in the heavens
And the earth: verily He
Is Oft-Forgiving, Most Merciful."
---

7. Waqaloo mali hatha alrrasooli ya/kulu alttaAAama wayamshee fee al-aswaqi lawla onzila ilayhi malakun fayakoona maAAahu natheeran
7. find they say: "What sort
Of an apostle is this,
Who eats food, and walks
Through the streets? Why
Has not an angel
Been sent down to him
To give admonition with him?
---

8. Aw yulqa ilayhi kanzun aw takoonu lahu jannatun ya/kulu minha waqala alththalimoona in tattabiAAoona illa rajulan mashooran
8. "Or (why) has not a treasure
Been bestowed on him, or
Why has he (not) a garden
For enjoyment?" The wicked
Say: "Ye follow none other
Than a man bewitched."
---

9. Onthur kayfa daraboo laka al-amthala fadalloo fala yastateeAAoona sabeelan
9. See what kinds of comparisons
They make for thee!
But they have gone astray,
And never a way will they
Be able to find!