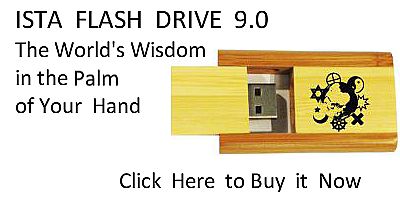 Sacred Texts
Islam
Index
Hypertext Qur'an
Unicode
Palmer
Pickthall
Yusuf Ali English
Rodwell
Sūra II.: Baqara, or the Heifer. Index
Previous
Next
---


The Holy Quran, tr. by Yusuf Ali, [1934], at sacred-texts.com
---
Sūra II.: Baqara, or the Heifer.
Section 29
---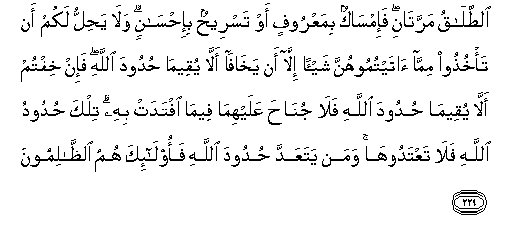 229. Alttalaqu marratani fa-imsakun bimaAAroofin aw tasreehun bi-ihsanin wala yahillu lakum an ta/khuthoo mimma ataytumoohunna shay-an illa an yakhafa alla yuqeema hudooda Allahi fa-in khiftum alla yuqeema hudooda Allahi fala junaha AAalayhima feema iftadat bihi tilka hudoodu Allahi fala taAAtadooha waman yataAAadda hudooda Allahi faola-ika humu alththalimoona
229. A divorce is only
Permissible twice: after that,
The parties should either hold
Together on equitable terms,
Or separate with kindness.
It is not lawful for you,
(Men), to take back
Any of your gifts (from your wives)
Except when both parties
Fear that they would be
Unable to keep the limits
Ordained by God.
If ye (judges) do indeed
Fear that they would be
Unable to keep the limits
Ordained by God,
There is no blame on either
Of them if she give
Something for her freedom.
These are the limits
Ordained by God;
So do not transgress them
If any do transgress
The limits ordained by God,
Such persons wrong
(Themselves as well as others).
---

230. Fa-in tallaqaha fala tahillu lahu min baAAdu hatta tankiha zawjan ghayrahu fa-in tallaqaha fala junaha AAalayhima an yatarajaAAa in thanna an yuqeema hudooda Allahi watilka hudoodu Allahi yubayyinuha liqawmin yaAAlamoona
230. So if a husband
Divorces his wife (irrevocably),
He cannot, after that,
Re-marry her until
After she has married
Another husband and
He has divorced her.
In that case there is
No blame on either of them
If they re-unite, provided
They feel that they
Can keep the limits
Ordained by God.
Such are the limits
Ordained by God,
Which He makes plain
To those who understand.
---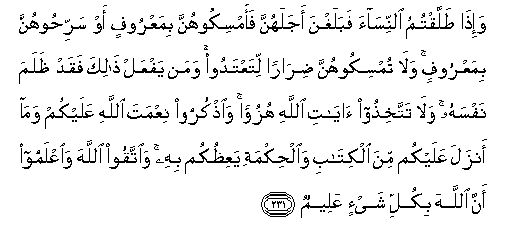 231. Wa-itha tallaqtumu alnnisaa fabalaghna ajalahunna faamsikoohunna bimaAAroofin aw sarrihoohunna bimaAAroofin wala tumsikoohunna diraran litaAAtadoo waman yafAAal thalika faqad thalama nafsahu wala tattakhithoo ayati Allahi huzuwan waothkuroo niAAmata Allahi AAalaykum wama anzala AAalaykum mina alkitabi waalhikmati yaAAithukum bihi waittaqoo Allaha waiAAlamoo anna Allaha bikulli shay-in AAaleemun
231. When ye divorce
Women, and they fulfil
The term of their ('Iddat),
Either take them back
On equitable terms
Or set them free
On equitable terms;
But do not take them back
To injure them, (or) to take
Undue advantage;
If any one does that,
He wrongs his own soul.
Do not treat God's Signs
As a jest,
But solemnly rehearse
God's favours on you,
And the fact that He
Sent down to you
The Book
And Wisdom,
For your instruction.
And fear God,
And know that God
Is well acquainted
With all things.