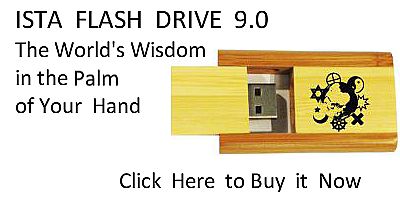 Sacred Texts
Islam
Index
Hypertext Qur'an
Unicode
Palmer
Pickthall
Yusuf Ali English
Rodwell
Sūra II.: Baqara, or the Heifer. Index
Previous
Next
---


The Holy Quran, tr. by Yusuf Ali, [1934], at sacred-texts.com
---
Sūra II.: Baqara, or the Heifer.
Section 28
---

222. Wayas-aloonaka AAani almaheedi qul huwa athan faiAAtaziloo alnnisaa fee almaheedi wala taqraboohunna hatta yathurna fa-itha tatahharna fa/toohunna min haythu amarakumu Allahu inna Allaha yuhibbu alttawwabeena wayuhibbu almutatahhireena
222. They ask thee
Concerning women's courses.
Say: They are
A hurt and a pollution:
So keep away from women
In their courses, and do not
Approach them until
They are clean.
But when they have
Purified themselves,
Ye may approach them
In any manner, time, or place
Ordained for you by God.
For God loves those
Who turn to Him constantly
And He loves those
Who keep themselves pure and clean,
---

223. Nisaokum harthun lakum fa/too harthakum anna shi/tum waqaddimoo li-anfusikum waittaqoo Allaha waiAAlamoo annakum mulaqoohu wabashshiri almu/mineena
223. Your wives are
As a tilth unto you;
So approach your tilth
When or how ye will;
But do some good act
For your souls beforehand;
And fear God,
And know that ye are
To meet Him (in the Hereafter),
And give (these) good tidings
To those who believe.
---

224. Wala tajAAaloo Allaha AAurdatan li-aymanikum an tabarroo watattaqoo watuslihoo bayna alnnasi waAllahu sameeAAun AAaleemun
224. And make not
God's (name) an excuse
In your oaths against
Doing good, or acting rightly,
Or making peace
Between persons;
For God is One
Who heareth and knoweth
All things.
---

225. La yu-akhithukumu Allahu biallaghwi fee aymanikum walakin yu-akhithukum bima kasabat quloobukum waAllahu ghafoorun haleemun
225. God will not
Call you to account
For thoughtlessness
In your oaths,
But for the intention
In your hearts;
And He is
Oft-forgiving
Most Forbearing.
---

226. Lillatheena yu/loona min nisa-ihim tarabbusu arbaAAati ashhurin fa-in faoo fa-inna Allaha ghafoorun raheemun
226. For those who take
An oath for abstention
From their wives,
A waiting for four months
Is ordained;
If then they return,
God is Oft-forgiving,
Most Merciful.
---

227. Wa-in AAazamoo alttalaqa fa-inna Allaha sameeAAun AAaleemun
227. But if their intention
Is firm for divorce,
God heareth
And knoweth all things.
---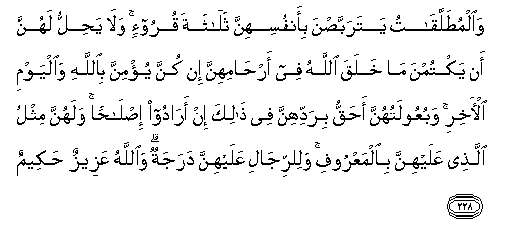 228. Waalmutallaqatu yatarabbasna bi-anfusihinna thalathata quroo-in wala yahillu lahunna an yaktumna ma khalaqa Allahu fee arhamihinna in kunna yu/minna biAllahi waalyawmi al-akhiri wabuAAoolatuhunna ahaqqu biraddihinna fee thalika in aradoo islahan walahunna mithlu allathee AAalayhinna bialmaAAroofi walilrrijali AAalayhinna darajatun waAllahu AAazeezun hakeemun
228. Divorced women
Shall wait concerning themselves
For three monthly periods.
Nor is it lawful for them
To hide what God
Hath created in their wombs,
If they have faith
In God and the Last Day.
And their husbands
Have the better right
To take them back
In that period, if
They wish for reconciliation.
And women shall have rights
Similar to the rights
Against them, according
To what is equitable;
But men have a degree
(Of advantage) over them.
And God is Exalted in Power, Wise.