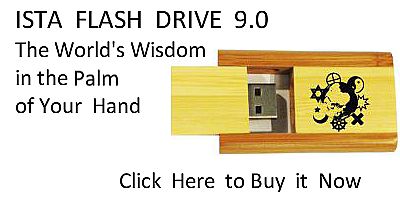 Sacred Texts
Islam
Index
Hypertext Qur'an
Unicode
Palmer
Pickthall
Yusuf Ali English
Rodwell
Sūra II.: Baqara, or the Heifer. Index
Previous
Next
---


The Holy Quran, tr. by Yusuf Ali, [1934], at sacred-texts.com
---
Sūra II.: Baqara, or the Heifer.
Section 26
---

211. Sal banee isra-eela kam ataynahum min ayatin bayyinatin waman yubaddil niAAmata Allahi min baAAdi ma jaat-hu fa-inna Allaha shadeedu alAAiqabi
211. Ask the Children of Israel
How many Clear (Signs)
We have sent them.
But if any one,
After God's favour
Has come to him,
Substitutes (something else),
God is strict in punishment.
---

212. Zuyyina lillatheena kafaroo alhayatu alddunya wayaskharoona mina allatheena amanoo waallatheena ittaqaw fawqahum yawma alqiyamati waAllahu yarzuqu man yashao bighayri hisabin
212. The life of this world
Is alluring to those
Who reject faith,
And they scoff at those
Who believe.
But the righteous
Will be above them
On the Day of Resurrection;
For God bestows His abundance
Without measure
On whom He will.
---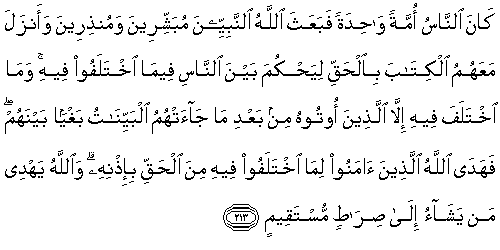 213. Kana alnnasu ommatan wahidatan fabaAAatha Allahu alnnabiyyeena mubashshireena wamunthireena waanzala maAAahumu alkitaba bialhaqqi liyahkuma bayna alnnasi feema ikhtalafoo feehi wama ikhtalafa feehi illa allatheena ootoohu min baAAdi ma jaat-humu albayyinatu baghyan baynahum fahada Allahu allatheena amanoo lima ikhtalafoo feehi mina alhaqqi bi-ithnihi waAllahu yahdee man yashao ila siratin mustaqeemin
213. Mankind was one single nation,
And God sent Messengers
With glad tidings and warnings;
And with them He sent
The Book in truth,
To judge between people
In matters wherein
They differed;
But the People of the Book,
After the clear Signs
Came to them, did not differ
Among themselves,
Except through selfish contumacy.
God by His Grace
Guided the Believers
To the Truth,
Concerning that
Wherein they differed.
For God guides
Whom He will
To a path
That is straight.
---

214. Am hasibtum an tadkhuloo aljannata walamma ya/tikum mathalu allatheena khalaw min qablikum massat-humu alba/sao waalddarrao wazulziloo hatta yaqoola alrrasoolu waallatheena amanoo maAAahu mata nasru Allahi ala inna nasra Allahi qareebun
214. Or do ye think
That ye shall enter
The Garden (of Bliss)
Without such (trials)
As came to those
Who passed away
Before you?
They encountered
Suffering and adversity,
And were so shaken in spirit
That even the Apostle
And those of faith
Who were with him
Cried: "When (will come)
The help of God?"
Ah! Verily, the help of God
Is (always) near!
---

215. Yas-aloonaka matha yunfiqoona qul ma anfaqtum min khayrin falilwalidayni waal-aqrabeena waalyatama waalmasakeeni waibni alssabeeli wama tafAAaloo min khayrin fa-inna Allaha bihi AAaleemun
215. They ask thee
What they should spend
(In charity). Say: Whatever
Ye spend that is good,
Is for parents and kindred
And orphans
And those in want
And for wayfarers.
And whatever ye do
That is good,—God
Knoweth it well.
---

216. Kutiba AAalaykumu alqitalu wahuwa kurhun lakum waAAasa an takrahoo shay-an wahuwa khayrun lakum waAAasa an tuhibboo shay-an wahuwa sharrun lakum waAllahu yaAAlamu waantum la taAAlamoona
216. Fighting is prescribed
For you, and ye dislike it.
But it is possible
That ye dislike a thing
Which is good for you,
And that ye love a thing
Which is bad for you.
But God knoweth,
And ye know not.