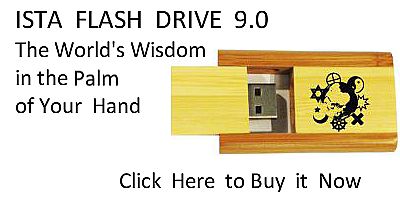 Sacred Texts
Islam
Index
Hypertext Qur'an
Unicode
Palmer
Pickthall
Yusuf Ali English
Rodwell
Sūra II.: Baqara, or the Heifer. Index
Previous
Next
---


The Holy Quran, tr. by Yusuf Ali, [1934], at sacred-texts.com
---
Sūra II.: Baqara, or the Heifer.
Section 24
---

189. Yas-aloonaka AAani al-ahillati qul hiya mawaqeetu lilnnasi waalhajji walaysa albirru bi-an ta/too albuyoota min thuhooriha walakinna albirra mani ittaqa wa/too albuyoota min abwabiha waittaqoo Allaha laAAallakum tuflihoona
189. They ask thee
Concerning the New Moons.
Say: They are but signs
To mark fixed periods of time
In (the affairs of) men,
And for Pilgrimage.
It is no virtue if ye enter
Your houses from the back:
It is virtue if ye fear God.
Enter houses
Through the proper doors:
And fear God:
That ye may prosper.
---

190. Waqatiloo fee sabeeli Allahi allatheena yuqatiloonakum wala taAAtadoo inna Allaha la yuhibbu almuAAtadeena
190. Fight in the cause of God
Those who fight you,
But do not transgress limits;
For God loveth not transgressors.
---

191. Waoqtuloohum haythu thaqiftumoohum waakhrijoohum min haythu akhrajookum waalfitnatu ashaddu mina alqatli wala tuqatiloohum AAinda almasjidi alharami hatta yuqatilookum feehi fa-in qatalookum faoqtuloohum kathalika jazao alkafireena
191. And slay them
Wherever ye catch them,
And turn them out
From where they have
Turned you out;
For tumult and oppression
Are worse than slaughter;
But fight them not
At the Sacred Mosque,
Unless they (first)
Fight you there;
But if they fight you,
Slay them.
Such is the reward
Of those who suppress faith.
---

192. Fa-ini intahaw fa-inna Allaha ghafoorun raheemun
192. But if they cease,
God is Oft-forgiving,
Most Merciful.
---

193. Waqatiloohum hatta la takoona fitnatun wayakoona alddeenu lillahi fa-ini intahaw fala AAudwana illa AAala alththalimeena
193. And fight them on
Until there is no more
Tumult or oppression,
And there prevail
Justice and faith in God;
But if they cease,
Let there be no hostility
Except to those
Who practise oppression.
---

194. Alshshahru alharamu bialshshahri alharami waalhurumatu qisasun famani iAAtada AAalaykum faiAAtadoo AAalayhi bimithli ma iAAtada AAalaykum waittaqoo Allaha waiAAlamoo anna Allaha maAAa almuttaqeena
194. The prohibited month
For the prohibited month,—
And so for all things prohibited,—
There is the law of equality.
If then any one transgresses
The prohibition against you,
Transgress ye likewise
Against him.
But fear God, and know
That God is with those
Who restrain themselves.
---

195. Waanfiqoo fee sabeeli Allahi wala tulqoo bi-aydeekum ila alttahlukati waahsinoo inna Allaha yuhibbu almuhsineena
195. And spend of your substance
In the cause of God,
And make not your own hands
Contribute to (your) destruction;
But do good;
For God loveth those
Who do good.
---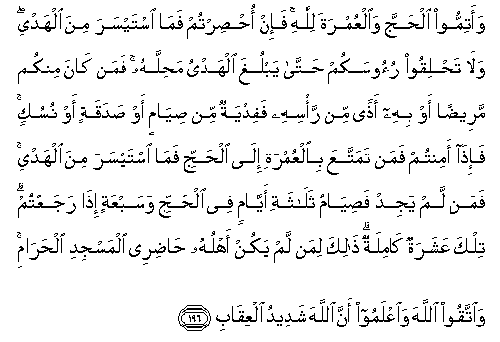 196. Waatimmoo alhajja waalAAumrata lillahi fa-in ohsirtum fama istaysara mina alhadyi wala tahliqoo ruoosakum hatta yablugha alhadyu mahillahu faman kana minkum mareedan aw bihi athan min ra/sihi fafidyatun min siyamin aw sadaqatin aw nusukin fa-itha amintum faman tamattaAAa bialAAumrati ila alhajji fama istaysara mina alhadyi faman lam yajid fasiyamu thalathati ayyamin fee alhajji wasabAAatin itha rajaAAtum tilka AAasharatun kamilatun thalika liman lam yakun ahluhu hadiree almasjidi alharami waittaqoo Allaha waiAAlamoo anna Allaha shadeedu alAAiqabi
196. And complete
The Ḥajj or 'umra
In the service of God.
But if ye are prevented
(From completing it),
Send an offering
For sacrifice,
Such as ye may find,
And do not shave your heads
Until the offering reaches
The place of sacrifice.
And if any of you is ill,
Or has an ailment in his scalp,
(Necessitating shaving),
(He should) in compensation
Either fast, or feed the poor,
Or offer sacrifice;
And when ye are
In peaceful conditions (again),
If any one wishes
To continue the 'umra
On to the ḥajj,
He must make an offering,
Such as he can afford,
But if he cannot afford it,
He should fast
Three days during the ḥajj
And seven days on his return,
Making ten days in all.
This is for those
Whose household
Is not in (the precincts
Of) the Sacred Mosque.
And fear God,
And know that God.
Is strict in punishment?