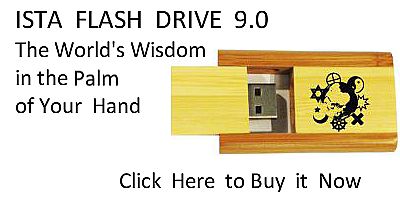 Sacred Texts
Atlantis
Index
Previous
Next
---


The Oera Linda Book, by Wiliam R. Sandbach, [1876], at sacred-texts.com
---
Hail to all true Frisians.
In the olden times, the Slavonic race knew nothing of liberty. They were brought under the yoke like oxen. They were driven into the bowels of the earth to dig metals, and had to build houses of stone as dwelling-places for princes and priests. Of all that they did nothing came to themselves, everything must serve to enrich and make more powerful the priests and the princes, and to satisfy them. Under this treatment they grew
gray and old before their time, and died without any enjoyment; although the earth produces abundantly for the good of all her children. But our runaways and exiles came through Twiskland to their boundaries, and our sailors came to their harbours. From them they heard of liberty, of justice, and laws, without which men cannot exist. This was all absorbed by the unhappy people like dew into an arid soil. When they fully understood this, the most courageous among them began to clank their chains, which grieved the princes. The princes are proud and warlike; there is therefore some virtue in their hearts. They consulted together and bestowed some of their superfluity; but the cowardly hypocritical priests could not suffer this. Among their false gods they had invented also wicked cruel monsters. Pestilence broke out in the country; and they said that the gods were angry with the domineering of the wicked. Then the boldest of the people were strangled in their chains. The earth drank their blood, and that blood produced corn and fruits that inspired with wisdom those who ate them.
Sixteen hundred years ago (she writes, 593 B.C. *), Atland was submerged; and at that time something happened which nobody had reckoned upon. In the heart of Findasland, upon a mountain, lies a plain called Kasamyr † (Cashmere) that is "extraordinary." There was a child born whose mother was the daughter of a king, and whose father was a high-priest. In order to hide the shame they were obliged to renounce their own blood. Therefore it was taken out of the town to poor people. As the boy grew up, nothing was concealed from him, so he did all in his power to acquire wisdom. His intellect was so great that he understood everything that he saw or heard. The people regarded him with respect, and the priests were afraid of his questions. When he was of full age he went to his
parents. They had to listen to some hard language; and to get rid of him they gave him a quantity of jewels, but they dared not openly acknowledge him. Overcome with sorrow at the false shame of his parents, he wandered about. While travelling he fell in with a Frisian sailor who was serving as a slave, and who taught him our manners and customs. He bought the freedom of the slave, and they remained friends till death. Wherever he went he taught the people not to tolerate rich men or priests, and that they must guard themselves against false shame, which everywhere did harm to love and charity. The earth, he said, bestowed her treasures on those who scratch her skin; so all are obliged to dig, and plough, and sow if they wish to reap, but no one is obliged to do anything for another unless it be out of goodwill. He taught that men should not seek in her bowels for gold, or silver, or precious stones, which occasion envy and destroy love. To embellish your wives and daughters, he said, the river offers her pare stream. No man is able to make everybody equally rich and happy, but it is the duty of all men to make each other as equally rich and as happy as possible. Men should not despise any knowledge; but justice is the greatest knowledge that time can teach, because she wards off offences and promotes love.
His first name was Jessos *, but the priests, who hated him, called him Fo, that is, false; the people called him Krishna, that is, shepherd; and his Frisian friend called him Buddha (purse), because he had in his head a treasure of wisdom, and in his heart a treasure of love.
At last he was obliged to flee from the wrath of the priests; but wherever he went his teaching had preceded him, whilst his enemies followed him like
his shadow. When Jessos had thus travelled for twelve years he died; but his friends preserved his teaching, and spread it wherever they found listeners.
What do you think the priests did then? That I must tell you, and you must give your best attention to it. Moreover, you must keep guard against their acts and their tricks with all the strength that Wr-alda has given you. While the doctrine of Jessos was thus spreading over the earth, the false priests went to the land of his birth to make his death known. They said they were his friends, and they pretended to show great sorrow by tearing their clothes and shaving their heads. They went to live in caves in the mountains, but in them they had hid all their treasures, and they made in them images of Jessos. They gave these statues to simple people, and at last they said that Jessos was a god, that he had declared this himself to them, and that all those who followed his doctrine should enter his kingdom hereafter, where all was joy and happiness. Because they knew that he was opposed to the rich, they announced everywhere that poverty, suffering, and humility were the door by which to enter into his kingdom, and that those who had suffered the most on earth should enjoy the greatest happiness there. Although they knew that Jessos had taught that men should regulate and control their passions, they taught that men should stifle their passions, and that the perfection of humanity consisted in being as unfeeling as the cold stones. In order to make the people believe that they did as they preached, they pretended to outward poverty; and that they had overcome all sensual feelings, they took no wives. But if any young girl had made a false step, it was quickly forgiven; the weak, they said, were to be assisted, and to save
their souls men must give largely to the Church. Acting in this way, they had wives and children without households, and were rich without working; but the people grew poorer and more miserable than they had ever been before. This doctrine, which requires the priests to possess no further knowledge than to speak deceitfully, and to pretend to be pious while acting unjustly, spreads from east to west, and will come to our land also.
But when the priests fancy that they have entirely extinguished the light of Frya and Jessos, then shall all classes of men rise up who have quietly preserved the truth among themselves, and have hidden it from the priests. They shall be of princely blood of priests, Slavonic, and Frya's blood. They will make their light visible, so that all men shall see the truth; they shall cry woe to the acts of the princes and the priests. The princes who love the truth and justice shall separate themselves from the priests; blood shall flow, but from it the people will gather new strength. Finda's folk shall contribute their industry to the common good, Linda's folk their strength, and we our wisdom. Then the false priests shall be swept away from the earth. Wr-alda's spirit shall be invoked everywhere and always; the laws that Wr-alda in the beginning instilled into our consciences shall alone be listened to. There shall be neither princes, nor masters, nor rulers, except those chosen by the general voice. Then Frya shall rejoice, and the earth will only bestow her gifts on those who work. All this shall begin 4000 years after the submersion of Atland, and 1000 years later there shall exist no longer either priest or oppression.
Dela, surnamed Hellenia, watch!
Thus runs Frana's last will: All noble Frisians, Heil! In the name of Wr-alda, of Frya, and of Freedom, I greet you; and pray you if I die before I have named a successor, then I recommend to you Teuntja, who is Burgtmaagd in the citadel of Medeasblik; till now she is the best.
This Gosa has left behind her: Hail to all men! I have named no Eeremoeder, because I know none, and because it is better for you to have no mother than to have one you cannot trust. One bad time is passed by, but there is still another coming. Irtha has not given it birth, and Wr-alda has not decreed it. It comes from the East, out of the bosom of the priests. It will breed so much mischief that Irtha will not be able to drink the blood of her slain children. It will spread darkness over the minds of men like storm-clouds over the sunlight. Everywhere craft and deception shall contend with freedom and justice. Freedom and justice shall be overcome, and we with them. But this success will work out its own loss. Our descendants shall teach their people and their slaves the meaning of three words; they are universal love, freedom, and justice. At first they shall shine, then struggle with darkness, until every man's head and heart has become bright and clear. Then shall oppression be driven from the earth, like the thunder-clouds by the storm-wind, and all deceit will cease to have any more power. Gosa.
---
Footnotes
185:* 4193–1600 is 593 years before Christ.
185:† Kasamyr is Cashmere.
187:* Jes-us—not to be confounded with Jesus any more than Krisen (Krishna) with Christ.
---
Next: The Writing of Konerêd