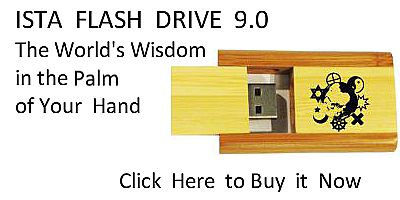 Sacred Texts
Islam
Index
Hypertext Qur'an
Unicode
Palmer
Pickthall
Yusuf Ali English
Rodwell
Sūra LVII.: Ḥadīd, or Iron. Index
Previous
Next
---


The Holy Quran, tr. by Yusuf Ali, [1934], at sacred-texts.com
---
Sūra LVII.: Ḥadīd, or Iron.
Section 2
---

11. Man tha allathee yuqridu Allaha qardan hasanan fayudaAAifahu lahu walahu ajrun kareemun
11. Who is he that will
Loan to God a beautiful
Loan? For (God) will
Increase it manifold
To his credit,
And he will have (besides)
A liberal reward.
---

12. Yawma tara almu/mineena waalmu/minati yasAAa nooruhum bayna aydeehim wabi-aymanihim bushrakumu alyawma jannatun tajree min tahtiha al-anharu khalideena feeha thalika huwa alfawzu alAAatheemu
12. One Day shalt thou see
The believing men and
The believing women—
How their Light runs
Forward before them
And by their right hands:
(Their greeting will be):
"Good News for you this Day!
Gardens beneath which How rivers!
To dwell therein for aye!
This is indeed
The highest Achievement!
---

13. Yawma yaqoolu almunafiqoona waalmunafiqatu lillatheena amanoo onthuroona naqtabis min noorikum qeela irjiAAoo waraakum failtamisoo nooran faduriba baynahum bisoorin lahu babun batinuhu feehi alrrahmatu wathahiruhu min qibalihi alAAathabu
13. One Day will the Hypocrites
Men and women—say
To the Believers: "Wait
For us! Let us borrow
(A light) from your Light!"
It will be said: "Turn
Ye back to your rear!
Then seek a light (where
Ye can)!" So a wall
Will be put up betwixt them,
With a gate therein.
Within it will be Mercy
Throughout, and without it,
All alongside, will be
(Wrath and) Punishment!
---

14. Yunadoonahum alam nakun maAAakum qaloo bala walakinnakum fatantum anfusakum watarabbastum wairtabtum wagharratkumu al-amaniyyu hatta jaa amru Allahi wagharrakum biAllahi algharooru
14. (Those without) will call out,
"Were we not with you?
(The others) will reply, "True!
But ye led yourselves
Into temptation; ye looked forward
(To our ruin); ye doubted
(God's Promise); and (your false)
Desires deceived you; until
There issued the Command
Of God. And the Deceiver
Deceived you in respect of God.
---

15. Faalyawma la yu/khathu minkum fidyatun wala mina allatheena kafaroo ma/wakumu alnnaru hiya mawlakum wabi/sa almaseeru
15. "This Day shall no ransom
Be accepted of you, nor
Of those who rejected God.
Your abode is the Fire:
That is the proper place .
To claim you: and an evil
Refuge it is!"
---

16. Alam ya/ni lillatheena amanoo an takhshaAAa quloobuhum lithikri Allahi wama nazala mina alhaqqi wala yakoonoo kaallatheena ootoo alkitaba min qablu fatala AAalayhimu al-amadu faqasat quloobuhum wakatheerun minhum fasiqoona
16. Has not the time arrived
For the Believers that
Their hearts in all humility
Should engage in the remembrance
Of God and of the Truth
Which has been revealed (to them),
And that they should not
Become like those to whom
Was given Revelation aforetime,
But long ages passed over them
And their hearts grew hard?
For many among them
Are rebellious transgressors.
---

17. IAAlamoo anna Allaha yuhyee al-arda baAAda mawtiha qad bayyanna lakumu al-ayati laAAallakum taAAqiloona
17. Know ye (all) that
God giveth life
To the earth after its death
Already have We shown
The Signs plainly to you,
That ye may learn wisdom.
---

18. Inna almussaddiqeena waalmussaddiqati waaqradoo Allaha qardan hasanan yudaAAafu lahum walahum ajrun kareemun
18. For those who give
In Charity, men and women,
And loan to God
A Beautiful Loan,
It shall be increased manifold
(To their credit),
And they shall have (besides)
A liberal reward.
---

19. Waallatheena amanoo biAllahi warusulihi ola-ika humu alssiddeeqoona waalshshuhadao AAinda rabbihim lahum ajruhum wanooruhum waallatheena kafaroo wakaththaboo bi-ayatina ola-ika as-habu aljaheemi
19. And those who believe
In God and His apostles—
They are the Sincere
(Lovers of Truth), and
The Witnesses (who testify),
In the eyes of their Lord:
They shall have their Reward
And their Light,
But those who reject God
And deny Our Signs,—
They are the Companions
Of Hell-Fire.