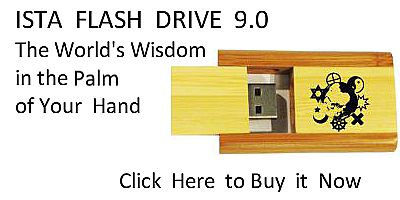 Sacred Texts
Islam
Index
Hypertext Qur'an
Unicode
Palmer
Pickthall
Yusuf Ali English
Rodwell
Sūra XLIII.: Zu<u>kh</u>ruf, or Gold Adornments. Index
Previous
Next
---


The Holy Quran, tr. by Yusuf Ali, [1934], at sacred-texts.com
---
Sūra XLIII.: Zukhruf, or Gold Adornments.
Section 7
---

68. Ya AAibadi la khawfun AAalaykumu alyawma wala antum tahzanoona
68. My devotees
No fear shall be
On you that Day,
Nor shall ye grieve,—
---

69. Allatheena amanoo bi-ayatina wakanoo muslimeena
69. (Being) those who have believed
In Our Signs and bowed
(Their wills to Ours) in Islam.
---

70. Odkhuloo aljannata antum waazwajukum tuhbaroona
70. Enter ye the Garden,
Ye and your wives,
In (beauty and) rejoicing.
---

71. Yutafu AAalayhim bisihafin min thahabin waakwabin wafeeha ma tashtaheehi al-anfusu watalaththu al-aAAyunu waantum feeha khalidoona
71. To them will be passed
Round, dishes and goblets
Of gold: there will be
There all that the souls
Could desire, all that
The eyes could delight in:
And ye shall abide
Therein (for aye).
---

72. Watilka aljannatu allatee oorithtumooha bima kuntum taAAmaloona
72. Such will be the Garden
Of which ye are made
Heirs for your (good) deeds
(In life).
---

73. Lakum feeha fakihatun katheeratun minha ta/kuloona
73. Ye shall have therein
Abundance of fruit, from which
Ye shall have satisfaction.
---

74. Inna almujrimeena fee AAathabi jahannama khalidoona
74. The Sinners will be
In the Punishment of Hell,
To dwell therein (for aye):
---

75. La yufattaru AAanhum wahum feehi mublisoona
75. Nowise will the (punishment)
Be lightened for them,
And in despair will they
Be there overwhelmed.
---

76. Wama thalamnahum walakin kanoo humu alththalimeena
76. Nowise shall We
Be unjust to them:
But it is they who
Have been unjust themselves.
---

77. Wanadaw ya maliku liyaqdi AAalayna rabbuka qala innakum makithoona
77. They will cry: "O Mālik!
Would that thy Lord
Put an end to us!"
He will say, "Nay, but
Ye shall abide!"
---

78. Laqad ji/nakum bialhaqqi walakinna aktharakum lilhaqqi karihoona
78. Verily We have brought
The Truth to you:
But most of you
Have a hatred for Truth.
---

79. Am abramoo amran fa-inna mubrimoona
79. What! Have they settled
Some Plan (among themselves)?
But it is We Who
Settle things.
---

80. Am yahsaboona anna la nasmaAAu sirrahum wanajwahum bala warusuluna ladayhim yaktuboona
80. Or do they think
That We hear not
Their secrets and their
Private counsels? Indeed
(We do), and Our Messengers
Are by them, to record.
---

81. Qul in kana lilrrahmani waladun faana awwalu alAAabideena
81. Say: If (God) Most Gracious
Had a son, I would
Be the first to worship."
---

82. Subhana rabbi alssamawati waal-ardi rabbi alAAarshi AAamma yasifoona
82. Glory to the Lord
Of the heavens and the earth,
The Lord of the Throne
(Of Authority)! (He is
Free) from the things
They attribute (to Him)!
---

83. Fatharhum yakhoodoo wayalAAaboo hatta yulaqoo yawmahumu allathee yooAAadoona
83. So leave them to babble
And play (with vanities)
Until they meet that Day,
Of theirs, which they
Have been promised.
---

84. Wahuwa allathee fee alssama-i ilahun wafee al-ardi ilahun wahuwa alhakeemu alAAaleemu
84. It is He Who is God
In heaven and God on earth;
And He is Full
Of Wisdom and Knowledge.
---

85. Watabaraka allathee lahu mulku alssamawati waal-ardi wama baynahuma waAAindahu AAilmu alssaAAati wa-ilayhi turjaAAoona
85. And blessed is He
To Whom belongs the dominion
Of the heavens and the earth,
And all between them:
With Him is the knowledge
Of the Hour (of Judgment):
And to Him shall ye
Be brought back.
---

86. Wala yamliku allatheena yadAAoona min doonihi alshshafaAAata illa man shahida bialhaqqi wahum yaAAlamoona
86. And those whom they invoke
Besides God have no power
Of intercession;—only he
Who bears witness to the Truth,
And they know (him).
---

87. Wala-in saaltahum man khalaqahum layaqoolunna Allahu faanna yu/fakoona
87. If thou ask them, Who
Created them, they will
Certainly say, God: how
Then are they deluded
Away (from the Truth)?
---

88. Waqeelihi ya rabbi inna haola-i qawmun la yu/minoona
88. (God has knowledge)
Of the (Prophet's) cry,
"O my Lord! Truly
These are a people
Who will not believe!"
---

89. Faisfah AAanhum waqul salamun fasawfa yaAAlamoona
89. But turn away from them,
And say "Peace!"
But soon shall they know!