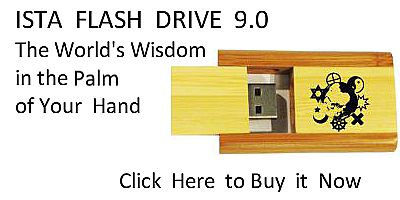 Sacred Texts
Islam
Index
Hypertext Qur'an
Unicode
Palmer
Pickthall
Yusuf Ali English
Rodwell
Sūra XXVI.: Shu'arāa, or The Poets. Index
Previous
Next
---


The Holy Quran, tr. by Yusuf Ali, [1934], at sacred-texts.com
---
Sūra XXVI.: Shu'arāa, or The Poets.
Section 5
---

70. Ith qala li-abeehi waqawmihi ma taAAbudoona
70. And rehearse to them
(Something of) Abraham's story.
---

71. Qaloo naAAbudu asnaman fanathallu laha AAakifeena
71. Behold, he said
To his father and his people:
"What worship ye?"
---

72. Qala hal yasmaAAoonakum ith tadAAoona
72. They said: "We worship
Idols, and we remain constantly
In attendance on them."
---

73. Aw yanfaAAoonakum aw yadurroona
73. He said: "Do they listen
To you when ye call (on them),
Or do you good or harm?"
---

74. Qaloo bal wajadna abaana kathalika yafAAaloona
74. They said: "Nay, but we
Found our fathers doing
Thus (what we do)."
---

75. Qala afaraaytum ma kuntum taAAbudoona
75. He said: "Do ye then
See whom ye have been
Worshipping,—
---

76. Antum waabaokumu al-aqdamoona
76. "Ye and your fathers before you?—
---

77. Fa-innahum AAaduwwun lee illa rabba alAAalameena
77. "For they are enemies to me;
Not so the Lord and Cherisher
Of the Worlds;
---

78. Allathee khalaqanee fahuwa yahdeeni
78. "Who created me, and
It is He who guides me;
---

79. Waallathee huwa yutAAimunee wayasqeeni
79. "Who gives me food and drink,
---

80. Wa-itha maridtu fahuwa yashfeeni
80. "And when I am ill,
It is He who cures me;
---

81. Waallathee yumeetunee thumma yuhyeeni
81. "Who will cause me to die,
And then to live (again);
---

82. Waallathee atmaAAu an yaghfira lee khatee-atee yawma alddeeni
82. "And who, I hope,
Will forgive me my faults
On the Day of Judgment.
---

83. Rabbi hab lee hukman waalhiqnee bialssaliheena
83. "O my Lord! bestow wisdom
On me, and join me
With the righteous;
---

84. WaijAAal lee lisana sidqin fee al-akhireena
84. "Grant me honourable mention
On the tongue of truth
Among the latest (generations);
---

85. WaijAAalnee min warathati jannati alnnaAAeemi
85. "Make me one of the inheritors
Of the Garden of Bliss;
---

86. Waighfir li-abee innahu kana mina alddalleena
86. "Forgive my father, for that
He is among those astray;
---

87. Wala tukhzinee yawma yubAAathoona
87. "And let me not be
In disgrace on the Day
When (men) will be raised up;—
---

88. Yawma la yanfaAAu malun wala banoona
88. "The Day whereon neither
Wealth nor sons will avail,
---

89. Illa man ata Allaha biqalbin saleemin
89. "But only he (will prosper)
That brings to God
A sound heart;
---

90. Waozlifati aljannatu lilmuttaqeena
90. "To the righteous, the Garden
Will be brought near,
---

91. Waburrizati aljaheemu lilghaweena
91. "And to those straying in Evil,
The Fire will be placed
In full view;
---

92. Waqeela lahum ayna ma kuntum taAAbudoona
92. "And it shall be said
To them, 'Where are
The (gods) ye worshipped—
---

93. Min dooni Allahi hal yansuroonakum aw yantasiroona
93. "'Besides God? Can they
Help you or help themselves?'
---

94. Fakubkiboo feeha hum waalghawoona
94. "Then they will be thrown
Headlong into the (Fire),—
They and those straying
In Evil,
---

95. Wajunoodu ibleesa ajmaAAoona
95. "And the whole hosts
Of Iblīs together.
---

96. Qaloo wahum feeha yakhtasimoona
96. "They will say there
In their mutual bickerings:
---

97. TaAllahi in kunna lafee dalalin mubeenin
97. "'By God, we were truly
In an error manifest,
---

98. Ith nusawweekum birabbi alAAalameena
98. "'When we held you as equals
With the Lord of the Worlds;
---

99. Wama adallana illa almujrimoona
99. "'And our seducers were
Only those who were
Steeped in guilt.
---

100. Fama lana min shafiAAeena
100. "'Now, then, we have none
To intercede (for us),
---

101. "'Nor a single friend
To feel (for us).
---

102. Falaw anna lana karratan fanakoona mina almu/mineena
102. "'Now if we only had
A chance of return,
We shall truly be
Of those who believe!'"
---

103. Inna fee thalika laayatan wama kana aktharuhum mu/mineena
103. Verily in this is a Sign
But most of them
Do not believe.
---

104. Wa-inna rabbaka lahuwa alAAazeezu alrraheemu
104. And verily thy Lord
Is He, the Exalted in Might,
Most Merciful.