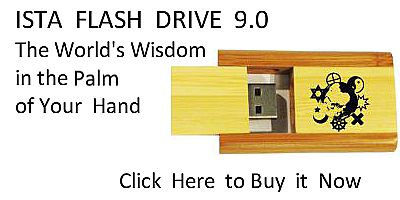 Sacred Texts
Islam
Index
Hypertext Qur'an
Unicode
Palmer
Pickthall
Yusuf Ali English
Rodwell
Sūra XXVI.: Shu'arāa, or The Poets. Index
Previous
Next
---


The Holy Quran, tr. by Yusuf Ali, [1934], at sacred-texts.com
---
Sūra XXVI.: Shu'arāa, or The Poets.
Section 3
---

34. Qala lilmala-i hawlahu inna hatha lasahirun AAaleemun
34. (Pharaoh) said to the Chiefs
Around him: "This is indeed
A sorcerer well-versed:
---

35. Yureedu an yukhrijakum min ardikum bisihrihi famatha ta/muroona
35. "His plan is to get you out
Of your land by his sorcery;
Then what is it ye counsel?"
---

36. Qaloo arjih waakhahu waibAAath fee almada-ini hashireena
36. They said: "Keep him
And his brother in suspense
(For a while), and dispatch
To the Cities heralds to collect—
---

37. Ya/tooka bikulli sahharin AAaleemin
37. "And bring up to thee
All (our) sorcerers well-versed."
---

38. FajumiAAa alssaharatu limeeqati yawmin maAAloomin
38. So the sorcerers were got
Together for the appointment
Of a day well-known,
---

39. Waqeela lilnnasi hal antum mujtamiAAoona
39. And the people were told:
"Are ye (now) assembled?—
---

40. LaAAallana nattabiAAu alssaharata in kanoo humu alghalibeena
40. "That we may follow
The sorcerers (in religion)
If they win?"
---

41. Falamma jaa alssaharatu qaloo lifirAAawna a-inna lana laajran in kunna nahnu alghalibeena
41. So when the sorcerers arrived,
They said to Pharaoh:
"Of course—shall we have
A (suitable) reward
If we win?"
---

42. Qala naAAam wa-innakum ithan lamina almuqarrabeena
42. He said: "Yea, (and more),—
For ye shall in that case
Be (raised to posts)
Nearest (to my person)."
---

43. Qala lahum moosa alqoo ma antum mulqoona
43. Moses said to them:
"Throw ye—that which
Ye are about to throw!"
---

44. Faalqaw hibalahum waAAisiyyahum waqaloo biAAizzati firAAawna inna lanahnu alghaliboona
44. So they threw their ropes
And their rods, and said:
"By the might of Pharaoh,
It is we who will
Certainly win!"
---

45. Faalqa moosa AAasahu fa-itha hiya talqafu ma ya/fikoona
45. Then Moses threw his rod,
When, behold, it straightway
Swallows up all
The falsehoods which they fake!
---

46. Faolqiya alssaharatu sajideena
46. When did the sorcerers
Fall down, prostrate in adoration,
---

47. Qaloo amanna birabbi alAAalameena
47. Saying: "We believe
In the Lord of the Worlds,
---

48. "The Lord of Moses and Aaron."
---

49. Qala amantum lahu qabla an athana lakum innahu lakabeerukumu allathee AAallamakumu alssihra falasawfa taAAlamoona laoqattiAAanna aydiyakum waarjulakum min khilafin walaosallibannakum ajmaAAeena
49. Said (Pharaoh): "Believe ye
In Him before I give
You permission? Surely he
Is your leader, who has
Taught you sorcery!
But soon shall ye know!
---

50. Qaloo la dayra inna ila rabbina munqaliboona
50. "Be sure I will cut off
Your hands and your feet
On opposite sides, and I
Will cause you all
To die on the cross!"
---

51. Inna natmaAAu an yaghfira lana rabbuna khatayana an kunna awwala almu/mineena
51. They said: "No matter!
For us, we shall but
Return to our Lord!
---

52. Waawhayna ila moosa an asri biAAibadee innakum muttabaAAoona
52. "Only, our desire is
That our Lord will
Forgive us our faults,
That we may become
Foremost among the Believers!"