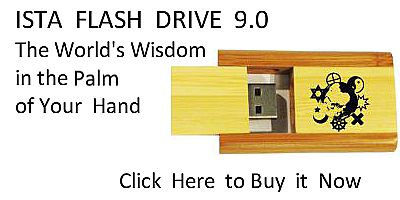 Sacred Texts
Islam
Index
Hypertext Qur'an
Unicode
Palmer
Pickthall
Yusuf Ali English
Rodwell
Sūra XIX.: Maryam, or Mary. Index
Previous
Next
---


The Holy Quran, tr. by Yusuf Ali, [1934], at sacred-texts.com
---
Sūra XIX.: Maryam, or Mary.
Section 3
---

41. Waothkur fee alkitabi ibraheema innahu kana siddeeqan nabiyyan
41. (Also) mention in the Book
(The story of) Abraham:
He was a man of Truth,
A prophet.
---

42. Ith qala li-abeehi ya abati lima taAAbudu ma la yasmaAAu wala yubsiru wala yughnee AAanka shay-an
42. Behold, he said to his father:
"O my father! why
Worship that which heareth not
And seeth not, and can
Profit thee nothing?
---

43. Ya abati innee qad jaanee mina alAAilmi ma lam ya/tika faittabiAAnee ahdika siratan sawiyyan
43. "O my father! to me
Hath come knowledge which
Hath not reached thee:
So follow me: I will guide
Thee to a Way that
Is even and straight.
---

44. Ya abati la taAAbudi alshshaytana inna alshshaytana kana lilrrahmani AAasiyyan
44. "O my father! serve not
Satan: for Satan is
A rebel against (God)
Most Gracious
---

45. Ya abati innee akhafu an yamassaka AAathabun mina alrrahmani fatakoona lilshshyatani waliyyan
45. "O my father! I fear
Lest a Penalty afflict thee
From (God) Most Gracious,
So that thou become
To Satan a friend."
---

46. Qala araghibun anta AAan alihatee ya ibraheemu la-in lam tantahi laarjumannaka waohjurnee maliyyan
46. (The father) replied: "Dost thou
Hate my gods, O Abraham?
If thou forbear not, I will
Indeed stone thee:
Now get away from me
For a good long while!"
---

47. Qala salamun AAalayka saastaghfiru laka rabbee innahu kana bee hafiyyan
47. Abraham said: "Peace be
On thee: I will pray
To my Lord for thy
forgiveness:
For He is to me
Most Gracious.
---

48. WaaAAtazilukum wama tadAAoona min dooni Allahi waadAAoo rabbee AAasa alla akoona biduAAa-i rabbee shaqiyyan
48. "And I will turn away
From you (all) and from those
Whom ye invoke besides God:
I will call on my Lord:
Perhaps, by my prayer to my Lord,
I shall be not unblest."
---

49. Falamma iAAtazalahum wama yaAAbudoona min dooni Allahi wahabna lahu ishaqa wayaAAqooba wakullan jaAAalna nabiyyan
49. When he had turned away
From them and from those
Whom they worshipped besides
God, We bestowed on him
Isaac and Jacob, and each one
Of them We made a prophet.
---

50. Wawahabna lahum min rahmatina wajaAAalna lahum lisana sidqin AAaliyyan
50. And We bestowed
Of Our Mercy on them,
And We granted them
Lofty honour on the tongue
Of truth.