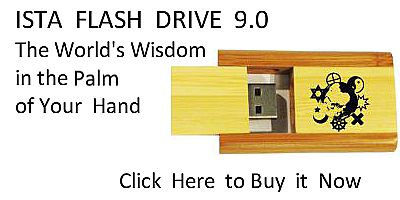 Sacred Texts
Islam
Index
Hypertext Qur'an
Unicode
Palmer
Pickthall
Yusuf Ali English
Rodwell
Sūra XVIII.: Kahf, or the Cave. Index
Previous
Next
---


The Holy Quran, tr. by Yusuf Ali, [1934], at sacred-texts.com
---
Sūra XVIII.: Kahf, or the Cave.
Section 5
---

32. Waidrib lahum mathalan rajulayni jaAAalna li-ahadihima jannatayni min aAAnabin wahafafnahuma binakhlin wajaAAalna baynahuma zarAAan
32. Set forth to them
The parable of two men:
For one of them We provided
Two gardens of grape-vines
And surrounded them
With date palms;
In between the two
We placed corn-fields.
---

33. Kilta aljannatayni atat okulaha walam tathlim minhu shay-an wafajjarna khilalahuma naharan
33. Each of those gardens
Brought forth its produce,
And failed not in the least
Therein: in the midst
Of them We caused
A river to flow.
---

34. Wakana lahu thamarun faqala lisahibihi wahuwa yuhawiruhu ana aktharu minka malan waaAAazzu nafaran
34. (Abundant) was the produce
This man had: he said
To his companion, in the course
Of a mutual argument:
"More wealth have I
Than you, and more honour
And power in (my following
Of) men."
---

35. Wadakhala jannatahu wahuwa thalimun linafsihi qala ma athunnu an tabeeda hathihi abadan
35. He went into his garden
In a state (of mind)
Unjust to his soul:
He said, "I deem not
That this will ever perish,
---

36. Wama athunnu alssaAAata qa-imatan wala-in rudidtu ila rabbee laajidanna khayran minha munqalaban
36. "Nor do I deem
That the Hour (of Judgment)
Will (ever) come:
Even if I am brought back
To my Lord, I shall
Surely find (there)
Something better in exchange."
---

37. Qala lahu sahibuhu wahuwa yuhawiruhu akafarta biallathee khalaqaka min turabin thumma min nutfatin thumma sawwaka rajulan
37. His companion said to him,
In the course of the argument
With him: "Dost thou deny
Him Who created thee
Out of dust, then out of
A sperm-drop, then fashioned
Thee into a man?
---

38. Lakinna huwa Allahu rabbee wala oshriku birabbee ahadan
38. "But (I think) for my part
That He is God,
My Lord, and none shall I
Associate with my Lord.
---

39. Walawla ith dakhalta jannataka qulta ma shaa Allahu la quwwata illa biAllahi in tarani ana aqalla minka malan wawaladan
39. "Why didst thou not,
As thou wentest into
Thy garden, say, "God's Will
(Be done)! There is no power
But with God!" If thou
Dost see me less than
Thee in wealth and sons,
---

40. FaAAasa rabbee an yu/tiyani khayran min jannatika wayursila AAalayha husbanan mina alssama-i fatusbiha saAAeedan zalaqan
40. "It may be that my Lord
Will give me something
Better than thy garden,
And that He will send
On thy garden thunderbolts
(By way of reckoning)
From heaven, making it
(But) slippery sand!—
---

41. Aw yusbiha maoha ghawran falan tastateeAAa lahu talaban
41. "Or the water of the garden
Will run off underground
So that thou wilt never
Be able to find it."
---

42. Waoheeta bithamarihi faasbaha yuqallibu kaffayhi AAala ma anfaqa feeha wahiya khawiyatun AAala AAurooshiha wayaqoolu ya laytanee lam oshrik birabbee ahadan
42. So his fruits (and enjoyment)
Were encompassed (with ruin),
And he remained twisting
And turning his hands
Over what he had spent
On his property, which had
(Now) tumbled to pieces
To its very foundations,
And he could only say,
"Woe is me! Would I had
Never ascribed partners
To my Lord and Cherisher!"
---

43. Walam takun lahu fi-atun yansuroonahu min dooni Allahi wama kana muntasiran
43. Nor had he numbers
To help him against God,
Nor was he able
To deliver himself.
---

44. Hunalika alwalayatu lillahi alhaqqi huwa khayrun thawaban wakhayrun AAuqban
44. There, the (only) protection comes
From God, the True One.
He is the Best to reward,
And the Best to give success.