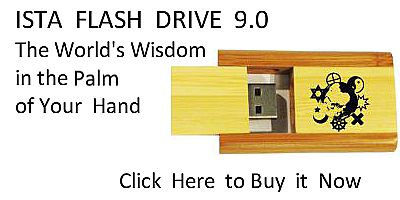 Sacred Texts
Islam
Index
Hypertext Qur'an
Unicode
Palmer
Pickthall
Yusuf Ali English
Rodwell
Sūra XVIII.: Kahf, or the Cave. Index
Previous
Next
---


The Holy Quran, tr. by Yusuf Ali, [1934], at sacred-texts.com
---
Sūra XVIII.: Kahf, or the Cave.
Section 4
---

23. Wala taqoolanna lishay-in innee faAAilun thalika ghadan
23. Nor say of anything,
"I shall be sure to do
So and so to-morrow"—
---

24. Illa an yashaa Allahu waothkur rabbaka itha naseeta waqul AAasa an yahdiyani rabbee li-aqraba min hatha rashadan
24. Without adding, "So please God!"
And call thy Lord to mind
When thou forgettest, and say,
"I hope that my Lord
Will guide me ever closer
(Even) than this
To the right road."
---

25. Walabithoo fee kahfihim thalatha mi-atin sineena waizdadoo tisAAan
25. So they stayed in their Cave
Three hundred years, and (some)
Add nine (more)
---

26. Quli Allahu aAAlamu bima labithoo lahu ghaybu alssamawati waal-ardi absir bihi waasmiAA ma lahum min doonihi min waliyyin wala yushriku fee hukmihi ahadan
26. Say: "God knows best
How long they stayed:
With Him is (the knowledge
Of) the secrets of the heavens
And the earth: how clearly
He sees, how finely He hears
(Everything)! They have no protector
Other than Him; nor does
He share His Command
With any person whatsoever.
---

27. Waotlu ma oohiya ilayka min kitabi rabbika la mubaddila likalimatihi walan tajida min doonihi multahadan
27. And recite (and teach)
What has been revealed
To thee of the Book
Of thy Lord: none
Can change His Words,
And none wilt thou find
As a refuge other than Him.
---

28. Waisbir nafsaka maAAa allatheena yadAAoona rabbahum bialghadati waalAAashiyyi yureedoona wajhahu wala taAAdu AAaynaka AAanhum tureedu zeenata alhayati alddunya wala tutiAA man aghfalna qalbahu AAan thikrina waittabaAAa hawahu wakana amruhu furutan
28. And keep thy soul content
With those who call
On their Lord morning
And evening, seeking
His Face; and let not
Thine eyes pass beyond them,
Seeking the pomp and glitter
Of this Life; nor obey
Any whose heart We
Have permitted to neglect
The remembrance of Us,
One who follows his own
Desires, whose case has
Gone beyond all bounds.
---

29. Waquli alhaqqu min rabbikum faman shaa falyu/min waman shaa falyakfur inna aAAtadna lilththalimeena naran ahata bihim suradiquha wa-in yastagheethoo yughathoo bima-in kaalmuhli yashwee alwujooha bi/sa alshsharabu wasaat murtafaqan
29. Say, "The Truth is
From your Lord":
Let him who will,
Believe, and let him
Who will, reject (it):
For the wrong-doers We
Have prepared a Fire
Whose (smoke and flames),
Like the walls and roof
Of a tent, will hem
Them in: if they implore
Relief they will be granted
Water like melted brass,
That will scald their faces.
How dreadful the drink!
How uncomfortable a couch
To recline on!
---

30. Inna allatheena amanoo waAAamiloo alssalihati inna la nudeeAAu ajra man ahsana AAamalan
30. As to those who believe
And work righteousness,
Verily We shall not suffer
To perish the reward
Of any who do
A (single) righteous deed.
---

31. Ola-ika lahum jannatu AAadnin tajree min tahtihimu al-anharu yuhallawna feeha min asawira min thahabin wayalbasoona thiyaban khudran min sundusin wa-istabraqin muttaki-eena feeha AAala al-ara-iki niAAma alththawabu wahasunat murtafaqan
31. For them will be Gardens
Of Eternity; beneath them
Rivers will flow: they will
Be adorned therein
With bracelets of gold,
And they will wear
Green garments of fine silk
And heavy brocade;
They will recline therein
On raised thrones.
How good the recompense!
How beautiful a couch
To recline on!