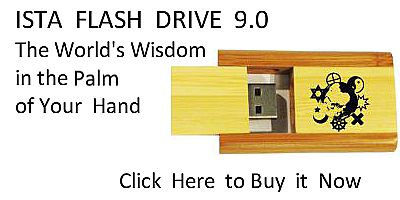 Sacred Texts
Islam
Index
Hypertext Qur'an
Unicode
Palmer
Pickthall
Yusuf Ali English
Rodwell
Sūra XIV.: Ibrāhīm, or Abraham. Index
Previous
Next
---


The Holy Quran, tr. by Yusuf Ali, [1934], at sacred-texts.com
---
Sūra XIV.: Ibrāhīm, or Abraham.
Section 4
---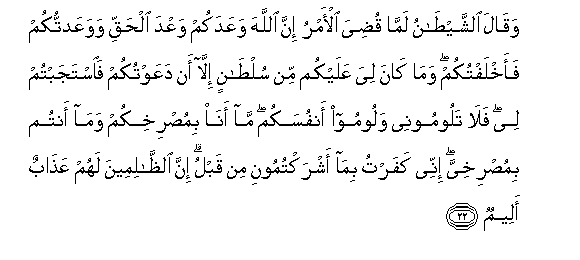 22. Waqala alshshaytanu lamma qudiya al-amru inna Allaha waAAadakum waAAda alhaqqi wawaAAadtukum faakhlaftukum wama kana liya AAalaykum min sultanin illa an daAAawtukum faistajabtum lee fala taloomoonee waloomoo anfusakum ma ana bimusrikhikum wama antum bimusrikhiyya innee kafartu bima ashraktumooni min qablu inna alththalimeena lahum AAathabun aleemun
22. And Satan will say
When the matter is decided:
"It was God Who gave you
A promise of Truth: I too
Promised, but I failed
In my promise to you.
I had no authority over you
Except to call you, but ye
Listened to me: then
Reproach not me, but reproach
Your own souls. I cannot listen
To your cries, nor can ye
Listen to mine. I reject
Your former act in associating
Me with God.
For wrong-doers there must be
A grievous Penalty."
---

23. Waodkhila allatheena amanoo waAAamiloo alssalihati jannatin tajree min tahtiha al-anharu khalideena feeha bi-ithni rabbihim tahiyyatuhum feeha salamun
23. But those who believe
And work righteousness
Will be admitted to Gardens
Beneath which rivers flow,—
To dwell therein for aye
With the leave of their Lord.
Their greeting therein
Will be: "Peace!"
---

24. Alam tara kayfa daraba Allahu mathalan kalimatan tayyibatan kashajaratin tayyibatin asluha thabitun wafarAAuha fee alssama/-i
24. Seest thou not how
God sets forth a parable?—
A goodly Word
Like a goodly tree,
Whose root is firmly fixed,
And its branches (reach)
To the heavens,—
---

25. Tu/tee okulaha kulla heenin bi-ithni rabbiha wayadribu Allahu al-amthala lilnnasi laAAallahum yatathakkaroona
25. It brings forth its fruit
At all times, by the leave
Of its Lord.
So God sets forth parables
For men, in order that
They may receive admonition.
---

26. Wamathalu kalimatin khabeethatin kashajaratin khabeethatin ijtuththat min fawqi al-ardi ma laha min qararin
26. And the parable
Of an evil Word
Is that of an evil tree:
It is torn up by the root
From the surface of the earth:
It has no stability.
---

27. Yuthabbitu Allahu allatheena amanoo bialqawli alththabiti fee alhayati alddunya wafee al-akhirati wayudillu Allahu alththalimeena wayafAAalu Allahu ma yasha/o
27. God will establish in strength
Those who believe, with the Word
That stands firm, in this world
And in the Hereafter; but God
Will leave, to stray, those
Who do wrong: God doeth
What He willeth.