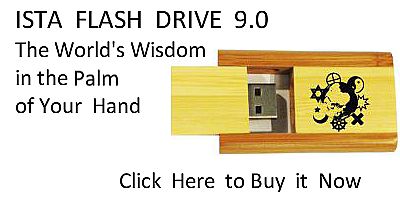 Sacred Texts
Sub Rosa
Index
Next
---
Buy this Book at Amazon.com
---


Code of the Illuminati: Part III of Memoirs Illustrating the History of Jacobinism, by A Barruel, tr. Robert Edward Clifford [1798], at sacred-texts.com
---
MEMOIRS
ILLUSTRATING THE
HISTORY of JACOBINISM
Written in
French

by
THE ABBÉ BARRUEL
And translated into
English

by
THE HON. ROBERT CLIFFORD, F.R.S. & A.S.
Princes and Nations shall disappear from the face of the Earth . . . and this Revolution shall be the work of secret societies.
Weishaupt's Discourse for the Mysteries
Part III.
THE ANTISOCIAL CONSPIRACY.
Second Edition, revised and corrected.
London
Printed for the
Translator

,
by

T. Burton

, No. 11, Gate-street, Lincoln's-Inn Fields.
Sold by

E. Booker

, No. 56, New Bond-street.
[1798]
Scanned, proofed and formatted at sacred-texts.com by John Bruno Hare, 2006-8. This text is in the public domain in the US because it was published prior to 1923.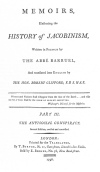 Click to enlarge
Title Page

---
Next: Preliminary Observations