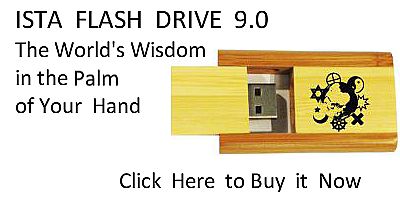 Sacred Texts
Islam
Index
Previous
Next
---


Salaman and Absal, by Jami, tr. Edward Fitzgerald, [1904], at sacred-texts.com
---
X.
Now was Salámán in his Prime of Growth,
His Cypress Stature risen to high Top,
And the new-blooming Garden of his Beauty
Began to bear; and Absál long'd to gather;
But the Fruit grew upon too high a Bough,
To which the Noose of her Desire was short.
She too rejoiced in Beauty of her own
No whit behind Salámán, whom she now
Began enticing with her Sorcery.
Now from her Hair would twine a musky Chain,
To bind his Heart—now twist it into Curls
Nestling innumerable Temptations;
Doubled the Darkness of her Eyes with Surma
To make him lose his way, and over them
Adorn'd the Bows that were to shoot him then;
Now to the Rose-leaf of her Cheek would add
Fresh Rose, and then a Grain of Musk lay there,
The Bird of the Belovéd Heart to snare.
Now with a Laugh would break the Ruby Seal
That lockt up Pearl; or busied in the Room
Would smite her Hand perhaps—on that pretence
To lift and show the Silver in her Sleeve;
Or hastily rising clash her Golden Anclets
To draw the Crownéd Head under her Feet.
Thus by innumerable Bridal wiles
She went about soliciting his Eyes,
Which she would scarce let lose her for a Moment;
For well she knew that mainly by The Eye
Love makes his Sign, and by no other Road
Enters and takes possession of the Heart.
Burning with Desire
Zulaikha
Built a Chamber, Wall and Ceiling
Blank as an untarnisht Mirror,
Spotless as the Heart of
Yúsuf
.
Then she made a cunning Painter
Multiply her Image round it;
Not an Inch of Wall but echoed
With the Reflex of her Beauty.
Then amid them all in all her
Glory sat she down, and sent for
Yúsuf
—she began a Tale
Of Love—and Lifted up her Veil.
From her Look he turn'd, but turning
Wheresoever, ever saw her
Looking, looking at him still.
Then Desire arose within him—
He was almost yielding—almost
Laying Honey on her Lip—
When a Signal out of Darkness
Spoke to him—and he withdrew
His Hand, and dropt the Skirt of Fortune.
---
Next: XI