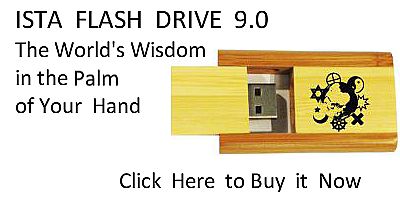 Sacred Texts
Islam
Index
Hypertext Qur'an
Unicode
Palmer
Pickthall
Yusuf Ali English
Rodwell
Sūra II.: Baqara, or the Heifer. Index
Previous
Next
---


The Holy Quran, tr. by Yusuf Ali, [1934], at sacred-texts.com
---
Sūra II.: Baqara, or the Heifer.
Section 35
---

258. Alam tara ila allathee hajja ibraheema fee rabbihi an atahu Allahu almulka ith qala ibraheemu rabbiya allathee yuhyee wayumeetu qala ana ohyee waomeetu qala ibraheemu fa-inna Allaha ya/tee bialshshamsi mina almashriqi fa/ti biha mina almaghribi fabuhita allathee kafara waAllahu la yahdee alqawma alththalimeena
258. Hast thou not
Turned thy vision to one
Who disputed with Abraham
About his Lord, because
God had granted him
Power? Abraham said:
"My Lord is He Who
Giveth life and death."
He said: "I give life and death."
Said Abraham: "But it is God
That causeth the sun
To rise from the East:
Do thou then cause him
To rise from the West."
Thus was he confounded
Who (in arrogance) rejected
Faith. Nor doth God
Give guidance
To a people unjust.
---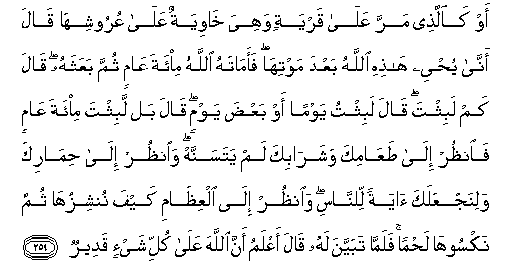 259. Aw kaallathee marra AAala qaryatin wahiya khawiyatun AAala AAurooshiha qala anna yuhyee hathihi Allahu baAAda mawtiha faamatahu Allahu mi-ata AAamin thumma baAAathahu qala kam labithta qala labithtu yawman aw baAAda yawmin qala bal labithta mi-ata AAamin faonthur ila taAAamika washarabika lam yatasannah waonthur ila himarika walinajAAalaka ayatan lilnnasi waonthur ila alAAithami kayfa nunshizuha thumma naksooha lahman falamma tabayyana lahu qala aAAlamu anna Allaha AAala kulli shay-in qadeerun
259. Or (take) the similitude
Of one who passed
By a hamlet, all in ruins
To its roofs. He said:
"Oh! how shall God
Bring it (ever) to life,
After (this) its death?"
But God caused him
To die for a hundred years,
Then raised him up (again).
He said: "How long
Didst thou tarry (thus)?"
He said: "(Perhaps) a day
Or part of a day." He said:
"Nay, thou hast tarried
Thus a hundred years;
But look at thy food
And thy drink; they show
No signs of age; and look
At thy donkey: and that
We may make of thee
A Sign unto the people,
Look further at the bones,
How We bring them together
And clothe them with flesh."
When this was shown clearly
To him, he said: "I know
That God hath power
Over all things."
---

260. Wa-ith qala ibraheemu rabbi arinee kayfa tuhyee almawta qala awa lam tu/min qala bala walakin liyatma-inna qalbee qala fakhuth arbaAAatan mina alttayri fasurhunna ilayka thumma ijAAal AAala kulli jabalin minhunna juz-an thumma odAAuhunna ya/teenaka saAAyan waiAAlam anna Allaha AAazeezun hakeemun
260. Behold! Abraham said:
"My Lord! Show me how
Thou givest life to the dead."
He said: "Dost thou not
Then believe?" He said:
"Yea! but to satisfy
My own understanding."
He said: "Take four birds;
Tame them to turn to thee;
Put a portion of them
On every hill, and call to them:
They will come to thee
(Flying) with speed.
Then know that God
Is Exalted in Power, Wise."