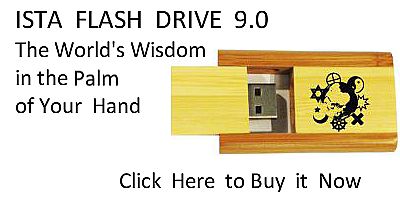 Sacred Texts
Islam
Index
Hypertext Qur'an
Unicode
Palmer
Pickthall
Yusuf Ali English
Rodwell
Sūra II.: Baqara, or the Heifer. Index
Previous
Next
---


The Holy Quran, tr. by Yusuf Ali, [1934], at sacred-texts.com
---
Sūra II.: Baqara, or the Heifer.
Section 7
---

60. Wa-ithi istasqa moosa liqawmihi faqulna idrib biAAasaka alhajara fainfajarat minhu ithnata AAashrata AAaynan qad AAalima kullu onasin mashrabahum kuloo waishraboo min rizqi Allahi wala taAAthaw fee al-ardi mufsideena
60. And remember Moses prayed
For water for his people;
We said: "Strike the rock
With thy staff." Then gushed forth
Therefrom twelve springs.
Each group knew its own place
For water. So eat and drink
Of the sustenance provided by God,
And do no evil nor mischief
On the (face of the) earth.
---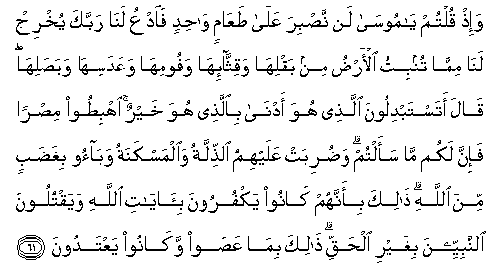 61. Wa-ith qultum ya moosa lan nasbira AAala taAAamin wahidin faodAAu lana rabbaka yukhrij lana mimma tunbitu al-ardu min baqliha waqiththa-iha wafoomiha waAAadasiha wabasaliha qala atastabdiloona allathee huwa adna biallathee huwa khayrun ihbitoo misran fa-inna lakum ma saaltum waduribat AAalayhimu alththillatu waalmaskanatu wabaoo bighadabin mina Allahi thalika bi-annahum kanoo yakfuroona bi-ayati Allahi wayaqtuloona alnnabiyyeena bighayri alhaqqi thalika bima AAasaw wakanoo yaAAtadoona
61. And remember ye said:
"O Moses! we cannot endure
One kind of food (always);
So beseech thy Lord for us
To produce for us of what the earth
Groweth,—its pot-herbs, and cucumbers,
Its garlic, lentils, and onions."
He said: "Will ye exchange
The better for the worse?
Go ye down to any town,"
And ye shall find what ye want!"
They were covered with humiliation
And misery; they drew
On themselves the wrath of God.
This because they went on
Rejecting the Signs of God
And slaying His Messengers
Without just cause.
This because they rebelled
And went on transgressing.