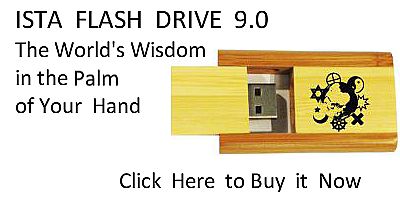 Sacred Texts
Hinduism
Index
Previous
---
Buy this Book at Amazon.com
---


Yoga Vashisht or Heaven Found, by Rishi Singh Gherwal, [1930], at sacred-texts.com
---
The following three pages of advertisements for other books by Singh Gherwal accompanied the original publication. They are included here for completeness. Note that the image below does not pertain to this book, but is a specimen illustration from his 'Kundalini' book. The addresses and prices in these advertisements are long out of date and we cannot provide further information about this.—JBH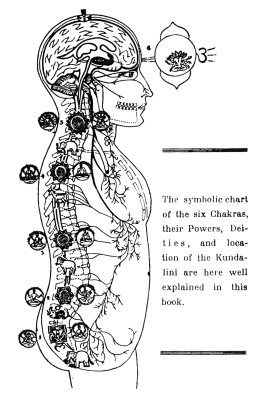 The symbolic chart of the six Chakras, their Powers, Deities, and location of the Kundalini are here well explained in this book—see next page.
KUNDALINI
THE MOTHER OF THE UNIVERSE
India is the mysterious land. The things of which we have read in old histories and all the bibles, of their marvelous feats are still happening today.
Yogis are performing such feats as, walking on red hot coals of fire; being buried alive for months and others quite as extraordinary, however, far too many to enumerate.
These are all accredited to the Power of Kundalini, and in the pages of this book, you will find the answer as to how this wonderful power is created.
| | |
| --- | --- |
| | CHAPTERS |
| 1 | Poem to Kundalini, Mother of the Universe. |
| 2 | Introduction |
| 3 | "Yoga and Its Objects". |
| 4 | Location of Kundalini. |
| 5 | What the Kundalini is: when She awakens, what then? |
| 6 | Mudras move the Kundalini. |
| 7 | Power of Pranayama Yoga. |
| 8 | Power of Dharana, Dhiyana and Samyama Yoga. |
| 9 | Power of Samadhi Yoga. |
| 10 | The Highest Occult Mantrams of Kundalini. |
| 11 | Why we worship Siva? |
| 12 | Review of Rev. Leadbeater's "Off the Trail". |
In ordering Book write to
Rishi S. Gherwal or J. Falkenstein.
P.O. Box 533 Santa Barbara, Calif.
U. S. A.
THE BOOK YOU'VE BEEN WAITING FOR
At last a book giving an intimate glimpse into the lives of the great Masters, by one who lived among them.
Read their priceless words of teaching, and read of the marvels they daily perform.
No other book like this has come out of India In its pages YOU, too, may walk beside the MASTERS, may listen to the Eternal Voice of the Ages chant the song of the Infinite, may even dine on Prana.
When you are thru with the book, you will have had a visit with me to the Holy Temples of the Himalayians.
Great Masters of the Himalayas. Their Lives And Temple Teachings.
By Rishi Singh Gherwal.—Price $1.25
The Prasna Upanishad: Price $.75
Marvelous Feats Performed by Yogis, through Yoga. Doctors, Scientists and Chemists unable to solve the mysteries. PRICE $.35
By Same Author
For the book and correspondence course
write
Rishi S. Gherwal or J. Falkenstein
P. O. Box 533 Santa Barbara, Calif.