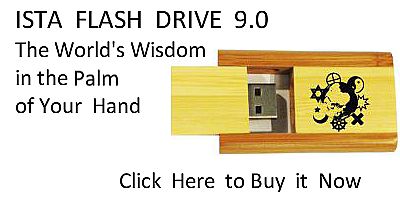 Sacred Texts
Esoteric
Index
Next
---
Buy this Book at Amazon.com
---
Most Holy Trinosophia, by Count St.Germain [1933], at sacred-texts.com
---
LA TRÈS SAINTE
TRINOSOPHIE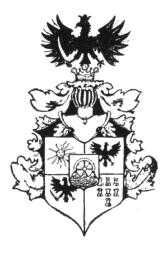 PAR LE COMTE DE ST.-GERMAIN
A PARALLEL FRENCH AND
ENGLISH TEXT OF
THE MOST HOLY
TRINOSOPHIA
OF THE COMTE DE ST.-GERMAIN
WITH INTRODUCTORY MATERIAL
AND COMMENTARY BY
MANLY HALL
ILLUSTRATED WITH THE FIGURES
FROM THE ORIGINAL MANUSCRIPT IN THE
BIBLIOTHÈQUE DE TROYES
THE PHOENIX PRESS
LOS ANGELES, CALIFORNIA
MCMXXXIII
scanned at sacred-texts.com, May 2007. Proofed and formatted by John Bruno Hare. This text is in the public domain in the United States because it was never registered or renewed at the US Copyright office, as required by law at the time. These files may be used for any non-commercial purpose, provided this notice of attribution is left intact in all copies.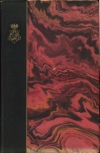 Click to enlarge
Cover



Click to enlarge
Spine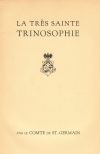 Click to enlarge
Title Page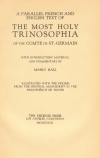 Click to enlarge
Second Title Page



Click to enlarge
Verso

Curieux scrutateur de la Nature entière,
J'ai connu du grand tout le principe et la fin.
J'ai vu l'or en puissance au fond de sa rivière
J'ai saisi sa matière et surpris son levain.
J'expliquai par quel art l'âme aux flancs d'une mère
Fait sa maison, l'emporte, et comment un pépin
Mis contre un grain de blé, sous l'humide poussière;
L'un plante et l'autre cep, sont le pain et le vin.
Rien n'était, Dieu voulant, rien devint quelque chose,
J'en doutais, je cherchai sur quoi l'univers pose.
Rien gardait l'équilibre et servait de soutien.
Enfin avec le poids de l'éloge et du blâme
Je pesai l'éternel; il appella mon âme:
Je mourrai, j'adorai, je ne savais plus rien.
—Comte de St.-Germain
---
Next: Table of Contents