---


Pow-Wows, or Long Lost Friend, by John George Hoffman, [1820], at sacred-texts.com
---
JOHN GEORGE HOHMAN'S
POW-WOWS;
OR,
LONG LOST FRIEND
A COLLECTION
OF MYSTERIOUS AND INVALUABLE
ARTS AND REMEDIES,
FOR
MAN AS WELL AS ANIMALS.
WITH MANY PROOFS
Of their virtue and efficacy in healing diseases, etc., the greatest part which was never published until they appeared in print for the first time in the U.S. in the year 1820.
PRINTED IN U.S.A.
Scanned at sacred-texts.com, August 2001.by J.B. Hare. Reformatted August, 2003 and March 2010. This text is in the public domain in the US becauuse it was published prior to 1923.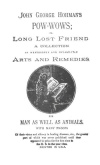 Click to enlarge
Title Page