---


The Kebra Nagast, by E.A.W. Budge, [1922], at sacred-texts.com
---
THE QUEEN of SHEBA & her only SON MENYELEK
BEING THE HISTORY of the DEPARTURE OF GOD & HIS ARK of THE COVENANT FROM JERUSALEM TO ETHIOPIA, AND THE ESTABLISHMENT of THE RELIGION OF THE HEBREWS & THE SOLOMONIC LINE OF KINGS IN THAT COUNTRY. A COMPLETE TRANSLATION of the KEBRA NAGAST WITH INTRODUCTION BY SIR E. A. WALLIS BUDGE, M.A., LITT.D., D.LITT., LIT.D., F.S.A., SOMETIME SCHOLAR OF CHRIST'S COLLEGE, CAMBRIDGE, AND TYRWHITT HEBREW SCHOLAR. KEEPER OF THE DEPARTMENT OF EGYPTIAN AND ASSYRIAN ANTIQUITIES IN THE BRITISH MUSEUM.
NOW FIRST PUBLISHED WITH 31 ILLUSTRATIONS FROM ETHIOPIC MSS. IN THE BRITISH MUSEUM BY THE MEDICI SOCIETY, LIMITED, LONDON, LIVERPOOL, AND BOSTON, MASS., MCMXXII.
[1922]
Scanned, proofed and formatted at sacred-texts.com, April 2010, by John Bruno Hare. This text is in the public domain in the US because it was published prior to 1923.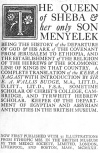 Click to enlarge
Title Page



Click to enlarge
Verso



Click to enlarge
Frontispiece