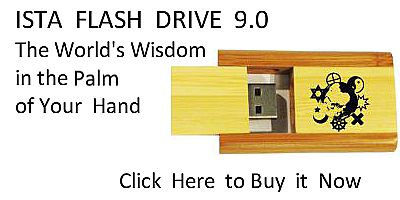 Sacred Texts
UFOs
Index
Next
---
Buy this Book at Amazon.com
---


The Report on Unidentified Flying Objects, by Edward J. Ruppelt, [1956], at sacred-texts.com
---
The Report on Unidentified Flying Objects
by Edward J. Ruppelt,
Former head of the United States Air Force Project Blue Book
DOUBLEDAY & COMPANY
Garden City, New York
[1956]
Scanned, proofed and formatted at sacred-texts.com, May 2008. This text is in the public domain in the US because the copyright on this book was not renewed in a timely fashion.
TO ELIZABETH AND KRIS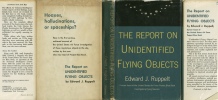 Click to enlarge
Jacket



Click to enlarge
Title Page



Click to enlarge
Verso



Click to enlarge
Registration and Renewal Report from Thompson Compumark on the Copyright Status of this work

Flap Text
"Unidentified Flying Objects"—exactly what are they? Are they interplanetary spaceships manned by intelligent beings? Or is the whole UFO business just a mass of hoaxes, hallucinations, and readily explained natural phenomena?
This is the first serious book about UFOs to be written by anyone actively connected with the official investigation of these phenomena. As chief of the Air Force project assigned to the investigation and analysis of UFOs, Mr. Ruppelt and his staff studied over 4,500 reports and discussed them with everyone from out-and-out crackpots to top-level scientists and generals.
All reports received were subjected to military intelligence analysis procedures. Astronomers, physicists, aerodynamic engineers, and psychologists were consulted in the course of the Air Force's exhaustive investigations.
(Continued on back flap)
(Continued from front flap)
The official Air Technical Intelligence Center reports of their findings, many details from which are revealed for the first time in this book, contain some completely baffling detailed accounts of UFO sightings by thoroughly reliable witnesses.
Here are the complete official accounts of the classic cases—the Lubbock Lights, the Utah Movies, the Florida Scoutmaster, the Washington Sightings—as well as a wealth of less-publicized but equally amazing incidents.
While others who have written books and articles on UFOs imply that they were conferring with officials in the inner sanctum, Mr. Ruppelt, as this fascinating book makes clear, was the inner sanctum.
About the Author
From early 1951 until September 1953, Edward J. Ruppelt was chief of the United States Air Force's Project Blue Book, an operation of the Air Technical Intelligence Center. Since 1953 the author has been in close contact with the present project staff and recently made a trip across the country to check current developments. Mr. Ruppelt is now a research engineer for the Northrop Aircraft Company.
JACKET PHOTOGRAPH OF LUBBOCK LIGHTS BY CARL HART, JR.
back of Jacket
Hoaxes,
hallucinations,
or spaceships?
Here is the first serious, unbiased account of the United States Air Force investigation of these mysterious objects in the sky, written by the man who was head of Project Blue Book.
---
Next: Foreword