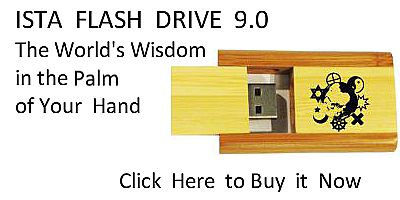 Sacred Texts
Islam
Index
Hypertext Qur'an
Unicode
Palmer
Pickthall
Yusuf Ali English
Rodwell
Sūra LVIII.: Mujādila, or The Woman who Pleads. Index
Previous
Next
---


The Holy Quran, tr. by Yusuf Ali, [1934], at sacred-texts.com
---
Sūra LVIII.: Mujādila, or The Woman who Pleads.
Section 3
---

14. Alam tara ila allatheena tawallaw qawman ghadiba Allahu AAalayhim ma hum minkum wala minhum wayahlifoona AAala alkathibi wahum yaAAlamoona
14. Turnest thou not
Thy attention to those
Who turn (in friendship)
To such as have the Wrath
Of God upon them?
They are neither of you
Nor of them, and they
Swear to falsehood knowingly.
---

15. aAAadda Allahu lahum AAathaban shadeedan innahum saa ma kanoo yaAAmaloona
15. God has prepared for them
A severe Penalty: evil
Indeed are their deeds.
---

16. Ittakhathoo aymanahum junnatan fasaddoo AAan sabeeli Allahi falahum AAathabun muheenun
16. They have made their oaths
A screen (for their misdeeds):
Thus they obstruct (men)
From the Path of God:
Therefore shall they have
A humiliating Penalty.
---

17. Lan tughniya AAanhum amwaluhum wala awladuhum mina Allahi shay-an ola-ika as-habu alnnari hum feeha khalidoona
17. Of no profit whatever
To them, against God,
Will be their riches
Nor their sons:
They will be Companions
Of the Fire, to dwell
Therein (for aye)!
---

18. Yawma yabAAathuhumu Allahu jameeAAan fayahlifoona lahu kama yahlifoona lakum wayahsaboona annahum AAala shay-in ala innahum humu alkathiboona
18. One Day will God
Raise them all up
(For Judgment): then
Will they swear to Him
As they swear to you:
And they think that they
Have something (to stand upon).
No, indeed! they are
But liars!
---

19. Istahwatha AAalayhimu alshshaytanu faansahum thikra Allahi ola-ika hizbu alshshaytani ala inna hizba alshshaytani humu alkhasiroona
19. The Evil One has
Got the better of them:
So he has made them
Lose the remembrance
Of God. They are the Party
Of the Evil One. Truly,
It is the Party
Of the Evil One
That will perish!
---

20. Inna allatheena yuhaddoona Allaha warasoolahu ola-ika fee al-athalleena
20. Those who resist
God and His Apostle
Will be among those
Most humiliated.
---

21. Kataba Allahu laaghlibanna ana warusulee inna Allaha qawiyyun AAazeezun
21. God has decreed:
"It is I and My apostles
Who must prevail":
For God is One
Full of strength,
Able to enforce His Will.
---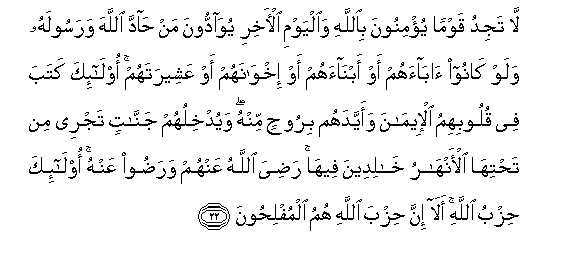 22. La tajidu qawman yu/minoona biAllahi waalyawmi al-akhiri yuwaddoona man hadda Allaha warasoolahu walaw kanoo abaahum aw abnaahum aw ikhwanahum aw AAasheeratahum ola-ika kataba fee quloobihimu al-eemana waayyadahum biroohin minhu wayudkhiluhum jannatin tajree min tahtiha al-anharu khalideena feeha radiya Allahu AAanhum waradoo AAanhu ola-ika hizbu Allahi ala inna hizba Allahi humu almuflihoona
22. Thou wilt not find
Any people who believe
In God and the Last Day,
Loving those who resist
God and His Apostle,
Even though they were
Their fathers or their sons,
Or their brothers, or
Their kindred. For such
He has written Faiths
In their hearts, and strengthened
Them with a spirit
From Himself. And He
Will admit them to Gardens
Beneath which Rivers flow,
To dwell therein (for ever).
God will be well pleased
With them, and they with Him.
They are the Party
Of God. Truly it is
The Party of God that
Will achieve Felicity.