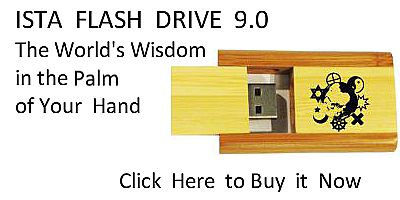 Sacred Texts
Islam
Index
Hypertext Qur'an
Unicode
Palmer
Pickthall
Yusuf Ali English
Rodwell
Sūra LIV.: Qamar, or the Moon. Index
Previous
Next
---


The Holy Quran, tr. by Yusuf Ali, [1934], at sacred-texts.com
---
Sūra LIV.: Qamar, or the Moon.
Section 3
---

41. Walaqad jaa ala firAAawna alnnuthuru
41. To the People
Of Pharaoh, too, aforetime,
Came Warners (from God).
---

42. Kaththaboo bi-ayatina kulliha faakhathnahum akhtha AAazeezin muqtadirin
42. The (people) rejected all
Our Signs; but We
Seized them with such Penalty
(As comes) from One
Exalted in Power,
Able to carry out His Will.
---

43. Akuffarukum khayrun min ola-ikum am lakum baraatun fee alzzuburi
43. Are your Unbelievers,
(O Quraish), better than they?
Or have ye an immunity
In the Sacred Books?
---

44. Am yaqooloona nahnu jameeAAun muntasirun
44. Or do they say:
"We acting together
Can defend ourselves"?
---

45. Sayuhzamu aljamAAu wayuwalloona alddubura
45. Soon will their multitude
Be put to flight,
And they will show
Their backs.
---

46. Bali alssaAAatu mawAAiduhum waalssaAAatu adha waamarru
46. Nay, the Hour (of Judgment)
Is the time promised them
(For their full recompense):
And that Hour will be
Most grievous and most bitter.
---

47. Inna almujrimeena fee dalalin wasuAAurin
47. Truly those in sin
Are the ones
Straying in mind, and mad.
---

48. Yawma yushaboona fee alnnari AAala wujoohihim thooqoo massa saqara
48. The Day they will be
Dragged through the Fire
On their faces, (they
Will hear:) "Taste ye
The touch of Hell!"
---

49. Inna kulla shay-in khalaqnahu biqadarin
49. Verily, all things
Have We created
In proportion and measure.
---

50. Wama amruna illa wahidatun kalamhin bialbasari
50. And Our Command
Is but a single (Act),—
Like the twinkling
Of an eye.
---

51. Walaqad ahlakna ashyaAAakum fahal min muddakirin
51. And (oft) in the past,
Have We destroyed gangs
Like unto you: then
Is there any that
Will receive admonition?
---

52. Wakullu shay-in faAAaloohu fee alzzuburi
52. All that they do
Is noted in (their)
Books (of Deeds):
---

53. Wakullu sagheerin wakabeerin mustatarun
53. Every matter, small and great,
Is on record.
---

54. Inna almuttaqeena fee jannatin wanaharin
54. As to the Righteous,
They will be in the midst
Of Gardens and Rivers,
---

55. Fee maqAAadi sidqin AAinda maleekin muqtadirin
55. In an Assembly of Truth,
In the Presence of
A Sovereign Omnipotent.