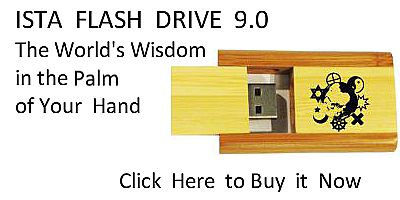 Sacred Texts
Islam
Index
Hypertext Qur'an
Unicode
Palmer
Pickthall
Yusuf Ali English
Rodwell
Sūra LIII.: Najm, or the Star. Index
Previous
Next
---


The Holy Quran, tr. by Yusuf Ali, [1934], at sacred-texts.com
---
Sūra LIII.: Najm, or the Star.
Section 3
---

33. Afaraayta allathee tawalla
33. Seest thou one
Who turns back,
---

34. Gives a little,
Then hardens (his heart)?
---

35. aAAindahu AAilmu alghaybi fahuwa yara
35. What! Has he knowledge
Of the unseen
So that he can see?
---

36. Am lam yunabba/ bima fee suhufi moosa
36. Nay, is he not acquainted
With what is in the books
Of Moses—
---

37. Wa-ibraheema allathee waffa
37. And of Abraham
Who fulfilled his
engagements;—
---

38. Alla taziru waziratun wizra okhra
38. Namely, that no bearer
Of burdens can bear
The burden of another;
---

39. Waan laysa lil-insani illa ma saAAa
39. That man can have nothing
But what he strives for;
---

40. Waanna saAAyahu sawfa yura
40. That (the fruit of) his striving
Will soon come in sight;
---

41. Thumma yujzahu aljazaa al-awfa
41. Then will he be rewarded
With a reward complete;
---

42. Waanna ila rabbika almuntaha
42. That to thy Lord
Is the final Goal;
---

43. Waannahu huwa adhaka waabka
43. That it is He Who
Granteth Laughter and Tears;
---

44. Waannahu huwa amata waahya
44. That it is He Who
Granteth Death and Life;
---

45. Waannahu khalaqa alzzawjayni alththakara waal-ontha
45. That He did create
In pairs,—male and female,
---

46. From a seed when lodged
(In its place);
---

47. Waanna AAalayhi alnnash-ata al-okhra
47. That He hath promised
A Second Creation
(Raising of the Dead);
---

48. Waannahu huwa aghna waaqna
48. That it is He Who
Giveth wealth and satisfaction;
---

49. Waannahu huwa rabbu alshshiAAra
49. That He is the Lord
Of Sirius (the Mighty Star);
---

50. Waannahu ahlaka AAadan al-oola
50. And that it is He
Who destroyed the (powerful)
Ancient 'Ād (people),
---

51. And the Thamūd,
Nor gave them a lease
Of perpetual life.
---

52. Waqawma noohin min qablu innahum kanoo hum athlama waatgha
52. And before them,
The people of Noah,
For that they were (all)
Most unjust
And most insolent transgressors,
---

53. And He destroyed
The Overthrown Cities
(Of Sodom and Gomorrah),
---

54. So that (ruins unknown)
Have covered them up.
---

55. Fabi-ayyi ala-i rabbika tatamara
55. Then which of the gifts
Of thy Lord, (O man,)
Wilt thou dispute about?
---

56. Hatha natheerun mina alnnuthuri al-oola
56. This is a Warner,
Of the (series of) Warners
Of old!
---

57. The (Judgment) ever approaching
Draws nigh:
---

58. Laysa laha min dooni Allahi kashifatun
58. No (soul) but God
Can lay it bare.
---

59. Afamin hatha alhadeethi taAAjaboona
59. Do ye then wonder
At this recital?
---

60. Watadhakoona wala tabkoona
60. And will ye laugh
And not weep,—
---

61. Wasting your time
In vanities?
---

62. Faosjudoo lillahi waoAAbudoo
62. But fall ye down in prostration
To God, and adore (Him)!