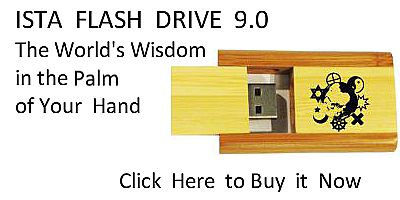 Sacred Texts
Islam
Index
Hypertext Qur'an
Unicode
Palmer
Pickthall
Yusuf Ali English
Rodwell
Sūra L.: Qāf. Index
Previous
Next
---


The Holy Quran, tr. by Yusuf Ali, [1934], at sacred-texts.com
---
Sūra L.: Qāf.
Section 2
---

16. Walaqad khalaqna al-insana wanaAAlamu ma tuwaswisu bihi nafsuhu wanahnu aqrabu ilayhi min habli alwareedi
16. It was We Who
Created man, and We know
What dark suggestions his soul
Makes to him: for We
Are nearer to him
Than (his) jugular vein.
---

17. Ith yatalaqqa almutalaqqiyani AAani alyameeni waAAani alshshimali qaAAeedun
17. Behold, two (guardian angels)
Appointed to learn (his doings)
Learn (and note them),
One sitting on the right
And one on the left.
---

18. Ma yalfithu min qawlin illa ladayhi raqeebun AAateedun
18. Not a word does he
Utter but there is
A sentinel by him,
Ready (to note it).
---

19. Wajaat sakratu almawti bialhaqqi thalika ma kunta minhu taheedu
19. And the stupor of death
Will bring truth (before
His eyes): "This was
The thing which thou
Wast trying to escape!"
---

20. Wanufikha fee alssoori thalika yawmu alwaAAeedi
20. And the Trumpet
Shall be blown:
That will be the Day
Whereof Warning (had been given).
---

21. Wajaat kullu nafsin maAAaha sa-iqun washaheedun
21. And there will come forth
Every soul: with each
Will be an (angel) to drive,
And an (angel) to
Bear witness.
---

22. Laqad kunta fee ghaflatin min hatha fakashafna AAanka ghitaaka fabasaruka alyawma hadeedun
22. (It will be said:)
"Thou wast heedless
Of this; now have We
Removed thy veil,
And sharp is thy sight
This Day!"
---

23. Waqala qareenuhu hatha ma ladayya AAateedun
23. And his Companion will say:
"Here is (his Record) ready
With me!"
---

24. Alqiya fee jahannama kulla kaffarin AAaneedin
24. (The sentence will be:)
"Throw, throw into Hell
Every contumacious Rejecter
(Of God)!—
---

25. MannaAAin lilkhayri muAAtadin mureebin
25. "Who forbade what was good,
Transgressed all bounds,
Cast doubts and suspicions;
---

26. Allathee jaAAala maAAa Allahi ilahan akhara faalqiyahu fee alAAathabi alshshadeedi
26. "Who set up another god
Beside God: throw him
Into a severe Penalty."
---

27. Qala qareenuhu rabbana ma atghaytuhu walakin kana fee dalalin baAAeedin
27. His Companion will say:
"Our Lord! I did not
Make him transgress,
But he was (himself)
Far astray."
---

28. Qala la takhtasimoo ladayya waqad qaddamtu ilaykum bialwaAAeedi
28. He will say: "Dispute not
With each other
In My Presence:
I had already in advance
Sent you Warning.
---

29. Ma yubaddalu alqawlu ladayya wama ana bithallamin lilAAabeedi
29. "The Word changes not
Before Me, and I do not
The least injustice
To My Servants."