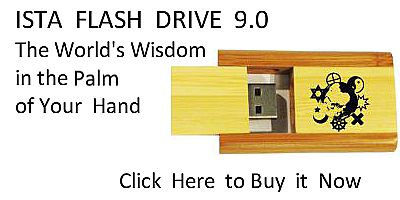 Sacred Texts
Islam
Index
Hypertext Qur'an
Unicode
Palmer
Pickthall
Yusuf Ali English
Rodwell
Sūra XLVIII.: Fat-ḥ or Victory. Index
Previous
Next
---


The Holy Quran, tr. by Yusuf Ali, [1934], at sacred-texts.com
---
Sūra XLVIII.: Fat-ḥ or Victory.
Section 3
---

18. Laqad radiya Allahu AAani almu/mineena ith yubayiAAoonaka tahta alshshajarati faAAalima ma fee quloobihim faanzala alsakeenata AAalayhim waathabahum fathan qareeban
18. God's Good Pleasure
Was on the Believers
When they swore Fealty
To thee under the Tree:
He knew what was
In their hearts, and He
Sent down Tranquillity
To them; and He rewarded
Them with a speedy Victory;
---

19. Wamaghanima katheeratan ya/khuthoonaha wakana Allahu AAazeezan hakeeman
19. And many gains will they
Acquire (besides): and God
Is Exalted in Power,
Full of Wisdom.
---

20. WaAAadakumu Allahu maghanima katheeratan ta/khuthoonaha faAAajjala lakum hathihi wakaffa aydiya alnnasi AAankum walitakoona ayatan lilmu/mineena wayahdiyakum siratan mustaqeeman
20. God has promised you
Many gains that ye shall
Acquire, and He has given
You these beforehand; and
He has restrained the hands
Of men from you; that it
May be a Sign for
The Believers, and that
He may guide you
To a Straight Path;
---

21. Waokhra lam taqdiroo AAalayha qad ahata Allahu biha wakana Allahu AAala kulli shay-in qadeeran
21. And other gains (there are),
Which are not within
Your power, but which
God has compassed: and God
Has power over all things.
---

22. Walaw qatalakumu allatheena kafaroo lawallawoo al-adbara thumma la yajidoona waliyyan wala naseeran
22. If the Unbelievers
Should fight you, they would
Certainly turn their backs;
Then would they find
Neither protector nor helper.
---

23. Sunnata Allahi allatee qad khalat min qablu walan tajida lisunnati Allahi tabdeelan
23. (Such has been) the practice
(Approved) of God already
In the past: no change
Wilt thou find in
The practice (approved) of God.
---

24. Wahuwa allathee kaffa aydiyahum AAankum waaydiyakum AAanhum bibatni makkata min baAAdi an athfarakum AAalayhim wakana Allahu bima taAAmaloona baseeran
24. And it is He Who
Has restrained their hands
From you and your hands
From them in the midst
Of Mecca, after that He
Gave you the victory
Over them. And God sees
Well all that ye do.
---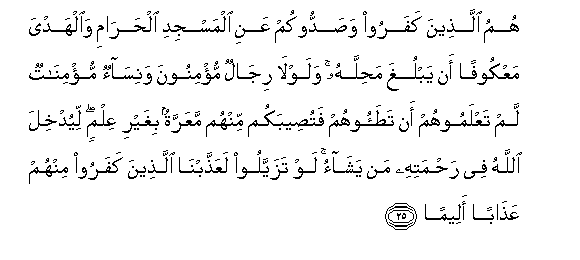 25. Humu allatheena kafaroo wasaddookum AAani almasjidi alharami waalhadya maAAkoofan an yablugha mahillahu walawla rijalun mu/minoona wanisaon mu/minatun lam taAAlamoohum an tataoohum fatuseebakum minhum maAAarratun bighayri AAilmin liyudkhila Allahu fee rahmatihi man yashao law tazayyaloo laAAaththabna allatheena kafaroo minhum AAathaban aleeman
25. They are the ones who
Denied revelation and hindered you
From the Sacred Mosque
And the sacrificial animals,
Detained from reaching their
Place of sacrifice. Had there
Not been believing men
And believing women whom
Ye did not know that
Ye were trampling down
And on whose account
A crime would have accrued
To you without (your) knowledge,
(God would have allowed you
To force your way, but
He held back your hands)
That He may admit
To His Mercy whom He will.
If they had been
Apart, We should
Certainly have punished
The Unbelievers among them
With a grievous punishment.
---

26. Ith jaAAala allatheena kafaroo fee quloobihimu alhamiyyata hamiyyata aljahiliyyati faanzala Allahu sakeenatahu AAala rasoolihi waAAala almu/mineena waalzamahum kalimata alttaqwa wakanoo ahaqqa biha waahlaha wakana Allahu bikulli shay-in AAaleeman
26. While the Unbelievers
Got up in their hearts
Heat and cant—the heat
And cant of Ignorance,—
God sent down His Tranquillity
To his Apostle and to
The Believers, and made them
Stick close to the command
Of self-restraint; and well
Were they entitled to it
And worthy of it.
And God has full knowledge
Of all things.