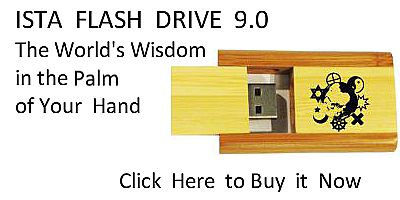 Sacred Texts
Islam
Index
Hypertext Qur'an
Unicode
Palmer
Pickthall
Yusuf Ali English
Rodwell
Sūra XLIII.: Zu<u>kh</u>ruf, or Gold Adornments. Index
Previous
Next
---


The Holy Quran, tr. by Yusuf Ali, [1934], at sacred-texts.com
---
Sūra XLIII.: Zukhruf, or Gold Adornments.
Section 5
---

46. Walaqad arsalna moosa bi-ayatina ila firAAawna wamala-ihi faqala innee rasoolu rabbi alAAalameena
46. We did send Moses
Aforetime, with Our Signs,
To Pharaoh and his Chiefs:
He said, "I am an apostle
Of the Lord of the Worlds."
---

47. Falamma jaahum bi-ayatina itha hum minha yadhakoona
47. But when he came to them
With Our Signs, behold,
They ridiculed them.
---

48. Wama nureehim min ayatin illa hiya akbaru min okhtiha waakhathnahum bialAAathabi laAAallahum yarjiAAoona
48. We showed them Sign
After Sign, each greater
Than, its fellow, and We
Seized them with Punishment,
In order that they
Might turn (to Us).
---

49. Waqaloo ya ayyuha alsahiru odAAu lana rabbaka bima AAahida AAindaka innana lamuhtadoona
49. And they said, "O thou
Sorcerer! Invoke thy Lord
For us according to
His covenant with thee;
For we shall truly
Accept guidance."
---

50. Falamma kashafna AAanhumu alAAathaba itha hum yankuthoona
50. But when We removed
The Penalty from them,
Behold, they broke their word.
---

51. Wanada firAAawnu fee qawmihi qala ya qawmi alaysa lee mulku misra wahathihi al-anharu tajree min tahtee afala tubsiroona
51. And Pharaoh proclaimed
Among his people, saying:
"O my people! Does not
The dominion of Egypt
Belong to me, (witness)
These streams flowing
Underneath my (palace)? What!
See ye not then?
---

52. Am ana khayrun min hatha allathee huwa maheenun wala yakadu yubeenu
52. "Am I not better
Than this (Moses), who
Is a contemptible wretch
And can scarcely
Express himself clearly?
---

53. Falawla olqiya AAalayhi aswiratun min thahabin aw jaa maAAahu almala-ikatu muqtarineena
53. "Then why are not
Gold bracelets bestowed
On him, or (why)
Come (not) with him
Angels accompanying him
In procession?"
---

54. Faistakhaffa qawmahu faataAAoohu innahum kanoo qawman fasiqeena
54. Thus did he make
Fools of his people,
And they obeyed him:
Truly were they a people
Rebellious (against God).
---

55. Falamma asafoona intaqamna minhum faaghraqnahum ajmaAAeena
55. When at length they
Provoked Us, We exacted
Retribution from them, and
We drowned them all.
---

56. FajaAAalnahum salafan wamathalan lil-akhireena
56. And We made them
(A people) of the Past
And an Example
To later ages.