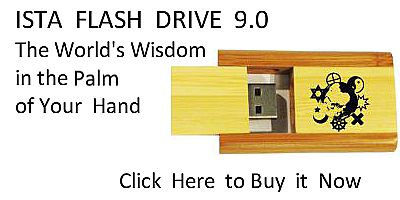 Sacred Texts
Islam
Index
Hypertext Qur'an
Unicode
Palmer
Pickthall
Yusuf Ali English
Rodwell
Sūra XXXIV.: Sabā, or the City of Sabā Index
Previous
Next
---


The Holy Quran, tr. by Yusuf Ali, [1934], at sacred-texts.com
---
Sūra XXXIV.: Sabā, or the City of Sabā
Section 6
---

46. Qul innama aAAithukum biwahidatin an taqoomoo lillahi mathna wafurada thumma tatafakkaroo ma bisahibikum min jinnatin in huwa illa natheerun lakum bayna yaday AAathabin shadeedin
46. Say: "I do admonish you
On one point: that ye
Do stand up before God,—
(It may be) in pairs,
Or (it may be) singly,—
And reflect (within yourselves):
Your Companion is not
Possessed: he is no less
Than a Warner to you,
In face of a terrible
Penalty."
---

47. Qul ma saaltukum min ajrin fahuwa lakum in ajriya illa AAala Allahi wahuwa AAala kulli shay-in shaheedun
47. Say: "No reward do I
Ask of you: it is (all)
In your interest: my reward
Is only due from God:
And He is Witness
To all things."
---

48. Qul inna rabbee yaqthifu bialhaqqi AAallamu alghuyoobi
48. Say: "Verily my Lord
Doth cast the (mantle
Of) Truth (over His servants),—
He that has full knowledge
Of (all) that is hidden."
---

49. Qul jaa alhaqqu wama yubdi-o albatilu wama yuAAeedu
49. Say: "The Truth has arrived,
And Falsehood neither creates
Anything new, nor restores
Anything."
---

50. Qul in dalaltu fa-innama adillu AAala nafsee wa-ini ihtadaytu fabima yoohee ilayya rabbee innahu sameeAAun qareebun
50. Say: "If I am astray,
I only stray to the loss
Of my own soul: but if
I receive guidance, it is seen
Because of the inspiration
Of my Lord to me:
It is He Who hears
All things, and is (ever) near."
---

51. Walaw tara ith faziAAoo fala fawta waokhithoo min makanin qareebin
51. If thou couldst but see
When they will quake
With terror; but then
There will be no escape
(For them), and they will he
Seized from a position
(Quite) near.
---

52. Waqaloo amanna bihi waanna lahumu alttanawushu min makanin baAAeedin
52. And they will say,
"We do believe (now)
In the (Truth)"; but how
Could they receive (Faith)
From a position (so) far off,—
---

53. Waqad kafaroo bihi min qablu wayaqthifoona bialghaybi min makanin baAAeedin
53. Seeing that they did reject
Faith (entirely) before, and
That they (continually) cast
(Slanders) on the Unseen
From a position far off?
---

54. Waheela baynahum wabayna ma yashtahoona kama fuAAila bi-ashyaAAihim min qablu innahum kanoo fee shakkin mureebin
54. And between them
And their desires,
Is placed a barrier,
As was done in the past
With their partisans:
For they were indeed
In suspicious (disquieting) doubt.