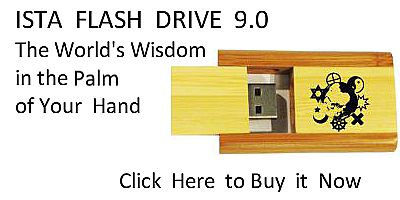 Sacred Texts
Islam
Index
Hypertext Qur'an
Unicode
Palmer
Pickthall
Yusuf Ali English
Rodwell
Sūra XXXIII.: Aḥzāb, or The Confederates. Index
Previous
Next
---


The Holy Quran, tr. by Yusuf Ali, [1934], at sacred-texts.com
---
Sūra XXXIII.: Aḥzāb, or The Confederates.
Section 5
---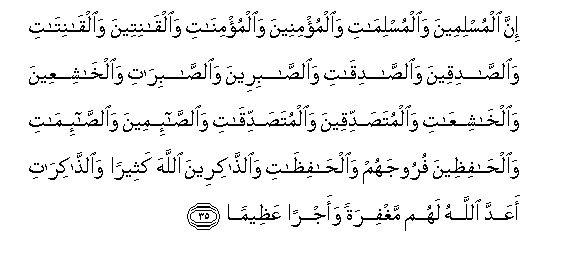 35. Inna almuslimeena waalmuslimati waalmu/mineena waalmu/minati waalqaniteena waalqanitati waalssadiqeena waalssadiqati waalssabireena waalssabirati waalkhashiAAeena waalkhashiAAati waalmutasaddiqeena waalmutasaddiqati waalssa-imeena waalssa-imati waalhafitheena furoojahum waalhafithati waalththakireena Allaha katheeran waalththakirati aAAadda Allahu lahum maghfiratan waajran AAatheeman
35. For Muslim men and women,—
For believing men and women,
For devout men and women,
For true men and women,
For men and women who are
Patient and constant, for men
And women who humble themselves
For men and women who give
In charity, for men and women
Who fast (and deny themselves),
For men and women who
Guard their chastity, and
For men and women who
Engage much in God's praise,—
For them has God prepared
Forgiveness and great reward.
---

36. Wama kana limu/minin wala mu/minatin itha qada Allahu warasooluhu amran an yakoona lahumu alkhiyaratu min amrihim waman yaAAsi Allaha warasoolahu faqad dalla dalalan mubeenan
36. It is not fitting
For a Believer, man or woman.
When a matter has been decided
By God and His Apostle,
To have any option
About their decision:
If any one disobeys God
And His Apostle, he is indeed
On a clearly wrong Path.
---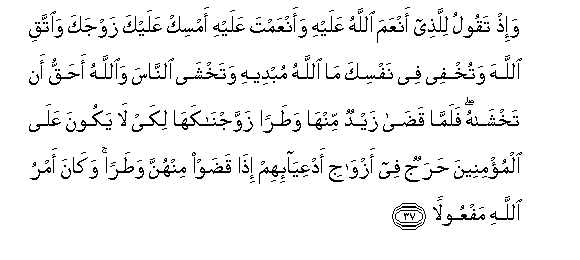 37. Wa-ith taqoolu lillathee anAAama Allahu AAalayhi waanAAamta AAalayhi amsik AAalayka zawjaka waittaqi Allaha watukhfee fee nafsika ma Allahu mubdeehi watakhsha alnnasa waAllahu ahaqqu an takhshahu falamma qada zaydun minha wataran zawwajnakaha likay la yakoona AAala almu/mineena harajun fee azwaji adAAiya-ihim itha qadaw minhunna wataran wakana amru Allahi mafAAoolan
37. Behold! thou didst say
To one who had received
The grace of God
And thy favour: "Retain thou
(In wedlock) thy wife,
And fear God." But thou
Didst hide in thy heart
That which God was about
To make manifest: thou didst
Fear the people, but it is
More fitting that thou shouldst
Fear God. Then when Zaid
Had dissolved (his marriage)
With her, with the necessary
(Formality), We joined her
In marriage to thee:
In order that (in future)
There may be no difficulty
To the Believers in (the matter
Of) marriage with the vives
Of their adopted sons, when
The latter have dissolved
With the necessary (formality)
(Their marriage) with them.
And God's command must
Be fulfilled.
---

38. Ma kana AAala alnnabiyyi min harajin feema farada Allahu lahu sunnata Allahi fee allatheena khalaw min qablu wakana amru Allahi qadaran maqdooran
38. There can be no difficulty
To the Prophet in what
God has indicated to him
As a duty. It was
The practice (approved) of God
Amongst those of old
That have passed away.
And the command of God
Is a decree determined.
---

39. Allatheena yuballighoona risalati Allahi wayakhshawnahu wala yakhshawna ahadan illa Allaha wakafa biAllahi haseeban
39. (It is the practice of those)
Who preach the Messages
Of God, and fear Him,
And fear none but God.
And enough is God
To call (men) to account.
---

40. Ma kana muhammadun aba ahadin min rijalikum walakin rasoola Allahi wakhatama alnnabiyyeena wakana Allahu bikulli shay-in AAaleeman
40. Muhammad is not
The father of any
Of your men, but (he is)
The Apostle of God,
And the Seal of the Prophets:
And God has full knowledge
Of all things.