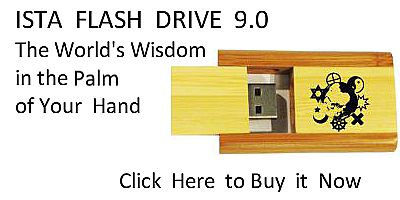 Sacred Texts
Islam
Index
Hypertext Qur'an
Unicode
Palmer
Pickthall
Yusuf Ali English
Rodwell
Sūra XXX.: Rūm, or The Roman Empire. Index
Previous
Next
---


The Holy Quran, tr. by Yusuf Ali, [1934], at sacred-texts.com
---
Sūra XXX.: Rūm, or The Roman Empire.
Section 4
---

28. Daraba lakum mathalan min anfusikum hal lakum mimma malakat aymanukum min shurakaa fee ma razaqnakum faantum feehi sawaon takhafoonahum kakheefatikum anfusakum kathalika nufassilu al-ayati liqawmin yaAAqiloona
28. He does propound
To you a similitude
From your own (experience):
Do ye have partners
Among those whom your right hands
Possess, to share as equals
In the wealth We have
Bestowed on you? Do ye
Fear them as ye fear
Each other? Thus do We
Explain the Signs in detail
To a people that understand.
---

29. Bali ittabaAAa allatheena thalamoo ahwaahum bighayri AAilmin faman yahdee man adalla Allahu wama lahum min nasireena
29. Nay, the wrong-doers (merely)
Follow their own lusts,
Being devoid of knowledge.
But who will guide those
Whom God leaves astray?
To them there will be
No helpers.
---

30. Faaqim wajhaka lilddeeni haneefan fitrata Allahi allatee fatara alnnasa AAalayha la tabdeela likhalqi Allahi thalika alddeenu alqayyimu walakinna akthara alnnasi la yaAAlamoona
30. So set thou thy face
Steadily and truly to the Faith:
(Establish) God's handiwork according
To the pattern on which
He has made mankind:
No change (let there be)
In the work (wrought)
By God: that is
The standard Religion
But most among mankind
Understand not.
---

31. Muneebeena ilayhi waittaqoohu waaqeemoo alssalata wala takoonoo mina almushrikeena
31. Turn ye back in repentance
To Him, and fear Him:
Establish regular prayers,
And be not ye among those
Who join gods with God,—
---

32. Mina allatheena farraqoo deenahum wakanoo shiyaAAan kullu hizbin bima ladayhim farihoona
32. Those who split up
Their Religion, and become
(Mere) Sects,—each party
Rejoicing in that which
Is with itself!
---

33. Wa-itha massa alnnasa durrun daAAaw rabbahum muneebeena ilayhi thumma itha athaqahum minhu rahmatan itha fareequn minhum birabbihim yushrikoona
33. When trouble touches men,
They cry to their Lord,
Turning back to Him
In repentance: but when
He gives them a taste
Of Mercy as from Himself,
Behold, some of them
Pay part-worship to
Other god's besides their Lord,—
---

34. Liyakfuroo bima ataynahum fatamattaAAoo fasawfa taAAlamoona
34. (As if) to show their ingratitude
For the (favours) We have
Bestowed on them! Then enjoy
(Your brief day); but soon
Will ye know (your folly).
---

35. Am anzalna AAalayhim sultanan fahuwa yatakallamu bima kanoo bihi yushrikoona
35. Or have We sent down
Authority to them, which
Points out to them
The things to which
They pay part-worship?
---

36. Waitha athaqna alnnasa rahmatan farihoo biha wa-in tusibhum sayyi-atun bima qaddamat aydeehim itha hum yaqnatoona
36. When We give men
A taste of Mercy,
They exult thereat:
And when-some evil
Afflicts them because of
What their (own) hands
Have sent forth, behold,
They are in despair!
---

37. Awa lam yaraw anna Allaha yabsutu alrrizqa liman yashao wayaqdiru inna fee thalika laayatin liqawmin yu/minoona
37. See they not that God
Enlarges the provision and
Restricts it, to whomsoever
He pleases? Verily in that
Are Signs for those who believe.
---

38. Faati tha alqurba haqqahu waalmiskeena waibna alssabeeli thalika khayrun lillatheena yureedoona wajha Allahi waola-ika humu almuflihoona
38. So give what is due
To kindred, the needy,
And the wayfarer.
That is best for those
Who seek the Countenance,
Of God, and it is they
Who will prosper.
---

39. Wama ataytum min riban liyarbuwa fee amwali alnnasi fala yarboo AAinda Allahi wama ataytum min zakatin tureedoona wajha Allahi faola-ika humu almudAAifoona
39. That which ye lay out
For increase through the property
Of (other) people, will have
No increase with God:
But that which ye lay out
For charity, seeking
The Countenance of God,
(Will increase): it is
These who twill get
A recompense multiplied.
---

40. Allahu allathee khalaqakum thumma razaqakum thumma yumeetukum thumma yuhyeekum hal min shuraka-ikum man yafAAalu min thalikum min shay-in subhanahu wataAAala AAamma yushrikoona
40. It is God Who has
Created you: further, He has
Provided for your sustenance;
Then He will cause you
To die; and again He will
Give you life. Are there
Any of your (false) "Partners"
Who can do any single
One of these things?
Glory to Him! and High
Is He above the partners
They attribute (to Him)!