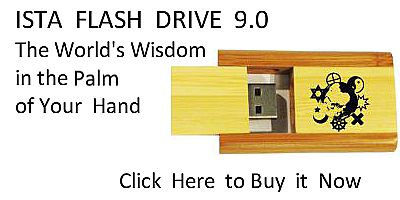 Sacred Texts
Islam
Index
Hypertext Qur'an
Unicode
Palmer
Pickthall
Yusuf Ali English
Rodwell
Sūra XXIII.: Mu-minūn, or The Believers. Index
Previous
Next
---


The Holy Quran, tr. by Yusuf Ali, [1934], at sacred-texts.com
---
Sūra XXIII.: Mu-minūn, or The Believers.
Section 3
---

33. Waqala almalao min qawmihi allatheena kafaroo wakaththaboo biliqa-i al-akhirati waatrafnahum fee alhayati alddunya ma hatha illa basharun mithlukum ya/kulu mimma ta/kuloona minhu wayashrabu mimma tashraboona
33. And the chiefs
Of his people, who disbelieved
And denied the Meeting
In the Hereafter, and on whom
We had bestowed the good things
Of this life, said: "He is
No more than a man
Like yourselves: he eats
Of that of which ye eat,
And drinks of what ye drink.
---

34. Wala-in ataAAtum basharan mithlakum innakum ithan lakhasiroona
34. "If ye obey a man
Like yourselves, behold,
It is certain ye will be lost.
---

35. AyaAAidukum annakum itha mittum wakuntum turaban waAAithaman annakum mukhrajoona
35. "Does he promise that
When ye die and become dust
And bones, ye shall be
Brought forth (again)?
---

36. Hayhata hayhata lima tooAAadoona
36. "Far, very far is that
Which ye are promised!
---

37. In hiya illa hayatuna alddunya namootu wanahya wama nahnu bimabAAootheena
37. "There is nothing but
Our life in this world!
We shall die and we live!
But we shall never
Be raised up again!
---

38. In huwa illa rajulun iftara AAala Allahi kathiban wama nahnu lahu bimu/mineena
38. "He is only a man
Who invents a lie
Against God, but we
Are not the ones
To believe in him!"
---

39. Qala rabbi onsurnee bima kaththabooni
39. (The prophet) said:
"O my Lord! help me:
For that they accuse me
Of falsehood."
---

40. Qala AAamma qaleelin layusbihunna nadimeena
40. (God) said: "In but
A little while, they
Are sure to be sorry!"
---

41. Faakhathat-humu alssayhatu bialhaqqi fajaAAalnahum ghuthaan fabuAAdan lilqawmi alththalimeena
41. Then the Blast overtook them
With justice, and We made them
As rubbish of dead leaves
(Floating on the stream of Time)!
So away with the people
Who do wrong!
---

42. Thumma ansha/na min baAAdihim quroonan akhareena
42. Then We raised after them
Other generations.
---

43. Ma tasbiqu min ommatin ajalaha wama yasta/khiroona
43. No people can hasten
Their term, nor can they
Delay (it).
---

44. Thumma arsalna rusulana tatra kulla ma jaa ommatan rasooluha kaththaboohu faatbaAAna baAAdahum baAAdan wajaAAalnahum ahadeetha fabuAAdan liqawmin la yu/minoona
44. Then sent We Our apostles
In succession: every time
There came to a people
Their apostle, they accused him
Of falsehood: so We made
Them follow each other
(In punishment): We made them
As a tale (that is told):
So away with a people
That will not believe!
---

45. Thumma arsalna moosa waakhahu haroona bi-ayatina wasultanin mubeenin
45. When We sent Moses
And his brother Aaron,
With Our Signs and
Authority manifest,
---

46. Ila firAAawna wamala-ihi faistakbaroo wakanoo qawman AAaleena
46. To Pharaoh and his Chiefs:
But these behaved insolently:
They were an arrogant people.
---

47. Faqaloo anu/minu libasharayni mithlina waqawmuhuma lana AAabidoona
47. They said: "Shall we believe
In two men like ourselves?
And their people are subject
To us!"
---

48. Fakaththaboohuma fakanoo mina almuhlakeena
48. So they accused them
Of falsehood, and they became
Of those who were destroyed.
---

49. Walaqad atayna moosa alkitaba laAAallahum yahtadoona
49. And We gave Moses
The Book, in order that
They might receive guidance.
---

50. WajaAAalna ibna maryama waommahu ayatan waawaynahuma ila rabwatin thati qararin wamaAAeenin
50. And We made
The son of Mary
And his mother
As a Sign:
We gave them both
Shelter on high ground,
Affording rest and security
And furnished with springs.