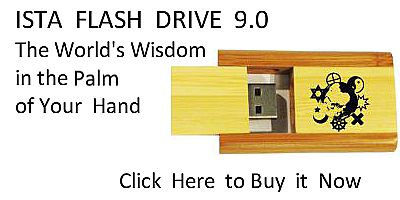 Sacred Texts
Islam
Index
Hypertext Qur'an
Unicode
Palmer
Pickthall
Yusuf Ali English
Rodwell
Sūra XX.: Ṭā-Hā. (Mystic Letters, Ṭ. H.) Index
Previous
Next
---


The Holy Quran, tr. by Yusuf Ali, [1934], at sacred-texts.com
---
Sūra XX.: Ṭā-Hā. (Mystic Letters, Ṭ. H.)
Section 4
---

77. Walaqad awhayna ila moosa an asri biAAibadee faidrib lahum tareeqan fee albahri yabasan la takhafu darakan wala takhsha
77. We sent an inspiration
To Moses: "Travel by night
With My servants, and strike
A dry path for them
Through the sea, without fear
Of being overtaken (by Pharaoh)
And without (any other) fear."
---

78. FaatbaAAahum firAAawnu bijunoodihi faghashiyahum mina alyammi ma ghashiyahum
78. Then Pharaoh pursued them
With his forces, but
The waters completely overwhelmed
Them and covered them up.
---

79. Waadalla firAAawnu qawmahu wama hada
79. Pharaoh led his people astray
Instead of leading them aright.
---

80. Ya banee isra-eela qad anjaynakum min AAaduwwikum wawaAAadnakum janiba alttoori al-aymana wanazzalna AAalaykumu almanna waalssalwa
80. O ye Children of Israel!
We delivered you from
Your enemy, and We
Made a Covenant with you
On the right side of
Mount (Sinai), and We sent
Down to you Manna
And quails:
---

81. Kuloo min tayyibati ma razaqnakum wala tatghaw feehi fayahilla AAalaykum ghadabee waman yahlil AAalayhi ghadabee faqad hawa
81. (Saying): "Eat of the good
Things We have provided
For your sustenance, but
Commit no excess therein,
Lest My Wrath should justly
Descend on you: and those
On whom descends My Wrath
Do perish indeed!
---

82. Wa-innee laghaffarun liman taba waamana waAAamila salihan thumma ihtada
82. "But, without doubt, I am
(Also) He that forgives
Again and again, to those
Who repent, believe,
And do right,—who,
In fine, are ready to receive
True guidance."
---

83. Wama aAAjalaka AAan qawmika ya moosa
83. (When Moses was up on the Mount,
God said:) "What made thee
Hasten in advance of thy people,
O Moses?"
---

84. Qala hum ola-i AAala atharee waAAajiltu ilayka rabbi litarda
84. He replied: "Behold, they are
Close on my footsteps:
I hastened to Thee.
O my Lord,
To please Thee."
---

85. Qala fa-inna qad fatanna qawmaka min baAAdika waadallahumu alssamiriyyu
85. (God) said: "We have tested
Thy people in thy absence:
The Sāmirī has led them
Astray."
---

86. FarajaAAa moosa ila qawmihi ghadbana asifan qala ya qawmi alam yaAAidkum rabbukum waAAdan hasanan afatala AAalaykumu alAAahdu am aradtum an yahilla AAalaykum ghadabun min rabbikum faakhlaftum mawAAidee
86. So Moses returned to his people
In a state of indignation
And sorrow. He said:
"O my people! did not
Your Lord make a handsome
Promise to you? Did then
The promise seem to you
Long (in coming)? Or did ye
Desire that Wrath should
Descend from your Lord on you,
And so ye broke your promise
To me?"
---

87. Qaloo ma akhlafna mawAAidaka bimalkina walakinna hummilna awzaran min zeenati alqawmi faqathafnaha fakathalika alqa alssamiriyyu
87. They said: "We broke not
The promise to thee, as far
As lay in our power:
But we were made to carry
The weight of the ornaments
Of the (whole) people, and we
Threw them (into the fire),
And that was what
The Sāmirī suggested.
---

88. Faakhraja lahum AAijlan jasadan lahu khuwarun faqaloo hatha ilahukum wa-ilahu moosa fanasiya
88. "Then he brought out
(Of the fire) before the (people)
The image of a calf:
It seemed to low:
So they said, "This is
Your god, and the god
Of Moses, but (Moses)
Has forgotten!"
---

89. Afala yarawna alla yarjiAAu ilayhim qawlan wala yamliku lahum darran wala nafAAan
89. Could they not see that
It could not return them
A word (for answer), and that
It had no power either
To harm them or
To do them good?