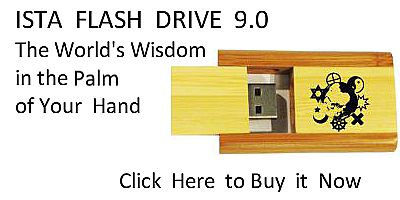 Sacred Texts
Islam
Index
Hypertext Qur'an
Unicode
Palmer
Pickthall
Yusuf Ali English
Rodwell
Sūra XVII.: Banī Isrā-īl, or the Children of Israel, Index
Previous
Next
---


The Holy Quran, tr. by Yusuf Ali, [1934], at sacred-texts.com
---
Sūra XVII.: Banī Isrā-īl, or the Children of Israel,
Section 7
---

61. Wa-ith qulna lilmala-ikati osjudoo li-adama fasajadoo illa ibleesa qala aasjudu liman khalaqta teenan
61. Behold! We said to the angels:
"Bow down unto Adam":
They bowed down except Iblīs
He said, "Shall I bow down
To one whom Thou didst create
From clay?"
---

62. Qala araaytaka hatha allathee karramta AAalayya la-in akhkhartani ila yawmi alqiyamati laahtanikanna thurriyyatahu illa qaleelan
62. He said, "Seest Thou? This is
The one whom Thou hast honoured
Above me! If Thou wilt but
Respite me to the Day
Of Judgment, I will surely
Bring his descendants
Under my sway
All but a few!"
---

63. Qala ithhab faman tabiAAaka minhum fa-inna jahannama jazaokum jazaan mawfooran
63. (God) said: "Go thy way;
If any of them follow thee,
Verily Hell will be
The recompense of you (all)—
An ample recompense.
---

64. Waistafziz mani istataAAta minhum bisawtika waajlib AAalayhim bikhaylika warajlika washarik-hum fee al-amwali waal-awladi waAAidhum wama yaAAiduhumu alshshaytanu illa ghurooran
64. "Lead to destruction those
Whom thou canst among them,
With thy (seductive) voice;
Make assaults on them
With thy cavalry and thy
Infantry; mutually share
With them wealth and children;
And make promises to them."
But Satan promises them
Nothing but deceit.
---

65. Inna AAibadee laysa laka AAalayhim sultanun wakafa birabbika wakeelan
65. "As for My servants,
No authority shalt thou
Have over them:"
Enough is thy Lord
For a Disposer of affairs.
---

66. Rabbukumu allathee yuzjee lakumu alfulka fee albahri litabtaghoo min fadlihi innahu kana bikum raheeman
66. Your Lord is He
That maketh the Ship
Go smoothly for you
Through the sea, in order that
Ye may seek of His Bounty.
For He is unto you
Most Merciful.
---

67. Wa-itha massakumu alddurru fee albahri dalla man tadAAoona illa iyyahu falamma najjakum ila albarri aAAradtum wakana al-insanu kafooran
67. When distress seizes you
At sea, those that ye
Call upon—besides Himself—
Leave you in the lurch!
But when He brings you back
Safe to land, ye turn
Away (from Him). Most ungrateful
Is man!
---

68. Afaamintum an yakhsifa bikum janiba albarri aw yursila AAalaykum hasiban thumma la tajidoo lakum wakeelan
68. Do ye then feel secure
That He will not cause you
To be swallowed up
Beneath the earth
When ye are on land,
Or that He will not send
Against you a violent tornado
(With showers of stones)
So that ye shall find
No one to carry out
Your affairs for you?
---

69. Am amintum an yuAAeedakum feehi taratan okhra fayursila AAalaykum qasifan mina alrreehi fayughriqakum bima kafartum thumma la tajidoo lakum AAalayna bihi tabeeAAan
69. Or do ye feel secure
That He will not send you
Back a second time
To sea and send against you
A heavy gale to drown you
Because of your ingratitude,
So that ye find no helper
Therein against Us?
---

70. Walaqad karramna banee adama wahamalnahum fee albarri waalbahri warazaqnahum mina alttayyibati wafaddalnahum AAala katheerin mimman khalaqna tafdeelan
70. We have honoured the sons
Of Adam; provided them
With transport on land and sea;
Given them for sustenance things
Good and pure; and conferred
On them special favours,
Above a great part
Of Our Creation.