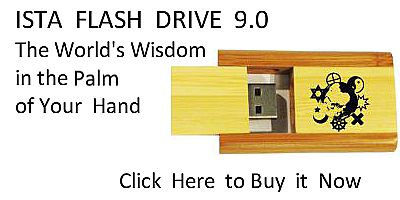 Sacred Texts
Islam
Index
Hypertext Qur'an
Unicode
Palmer
Pickthall
Yusuf Ali English
Rodwell
Sūra XVII.: Banī Isrā-īl, or the Children of Israel, Index
Previous
Next
---


The Holy Quran, tr. by Yusuf Ali, [1934], at sacred-texts.com
---
Sūra XVII.: Banī Isrā-īl, or the Children of Israel,
Section 5
---

41. Walaqad sarrafna fee hatha alqur-ani liyaththakkaroo wama yazeeduhum illa nufooran
41. We have explained (things)
In various (ways) in this Qur-ān,
In order that they may receive
Admonition, but it only increases
Their flight (from the Truth)!
---

42. Qul law kana maAAahu alihatun kama yaqooloona ithan laibtaghaw ila thee alAAarshi sabeelan
42. Say: if there had been
(Other) gods with Him,—
As they say,—behold,
They would certainly have
Sought out a way
To the Lord of the Throne!
---

43. Subhanahu wataAAala AAamma yaqooloona AAuluwwan kabeeran
43. Glory to Him! He is high
Above all that they say!—
Exalted and Great (beyond measure)!
---

44. Tusabbihu lahu alssamawatu alssabAAu waal-ardu waman feehinna wa-in min shay-in illa yusabbihu bihamdihi walakin la tafqahoona tasbeehahum innahu kana haleeman ghafooran
44. The seven heavens and the earth,
And all beings therein,
Declare His glory:
There is not a thing
But celebrates His praise;
And yet ye understand not
How they declare His glory!
Verily He is Oft-Forbearing,
Most Forgiving!
---

45. Wa-itha qara/ta alqur-ana jaAAalna baynaka wabayna allatheena la yu/minoona bial-akhirati hijaban mastooran
45. When thou dost recite
The Qur-ān, We put,
Between thee and those who
Believe not to the Hereafter,
A veil invisible:
---

46. WajaAAalna AAala quloobihim akinnatan an yafqahoohu wafee athanihim waqran wa-itha thakarta rabbaka fee alqur-ani wahdahu wallaw AAala adbarihim nufooran
46. And We put coverings
Over their hearts (and minds)
Lest they should understand
The Our-ān, and deafness
Into their ears: when thou
Dost commemorate thy Lord—
And Him alone—in the Qur-ān,
They turn on their backs,
Fleeing (from the Truth).
---

47. Nahnu aAAlamu bima yastamiAAoona bihi ith yastamiAAoona ilayka wa-ith hum najwa ith yaqoolu alththalimoona in tattabiAAoona illa rajulan mashooran
47. We know best why it is
They listen, when they listen
To thee; and when they
Meet in private conference,
Behold, the wicked say,
"Ye follow none other than
A man bewitched!"
---

48. Onthur kayfa daraboo laka al-amthala fadalloo fala yastateeAAoona sabeelan
48. See what similes they strike
For thee: but they have gone
Astray, and never can they
Find a way.
---

49. Waqaloo a-itha kunna AAithaman warufatan a-inna lamabAAoothoona khalqan jadeedan
49. They say: "What!
When we are reduced
To bones and dust,
Should we really be raised up
(To be) a new creation?
---

50. Qul koonoo hijaratan aw hadeedan
50. Say: "(Nay!) be ye
Stones or iron,
---

51. Aw khalqan mimma yakburu fee sudoorikum fasayaqooloona man yuAAeeduna quli allathee fatarakum awwala marratin fasayunghidoona ilayka ruoosahum wayaqooloona mata huwa qul AAasa an yakoona qareeban
51. "Or created matter
Which, in your minds,
Is hardest (to be raised up),
(Yet shall ye be raised up)!"
Then will they say:
"Who will cause us
To return?" Say: "He
Who created you first!"
Then will they wag
Their heads towards thee,
And say, "When will
That be?" Say, "May be
It will be quite soon!
---

52. Yawma yadAAookum fatastajeeboona bihamdihi watathunnoona in labithtum illa qaleelan
52. "It will be on a Day
When He will call you,
And ye will answer
(His call) with (words
Of) His praise, and ye
Will think that ye tarried
But a little while!