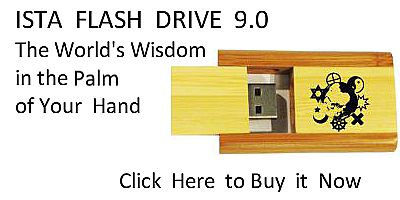 Sacred Texts
Islam
Index
Hypertext Qur'an
Unicode
Palmer
Pickthall
Yusuf Ali English
Rodwell
Sūra XVII.: Banī Isrā-īl, or the Children of Israel, Index
Previous
Next
---


The Holy Quran, tr. by Yusuf Ali, [1934], at sacred-texts.com
---
Sūra XVII.: Banī Isrā-īl, or the Children of Israel,
Section 2
---

11. WayadAAu al-insanu bialshsharri duAAaahu bialkhayri wakana al-insanu AAajoolan
11. The prayer that man
Should make for good,
He maketh for evil;
For man is given to
Hasty (deeds).
---

12. WajaAAalna allayla waalnnahara ayatayni famahawna ayata allayli wajaAAalna ayata alnnahari mubsiratan litabtaghoo fadlan min rabbikum walitaAAlamoo AAadada alssineena waalhisaba wakulla shay-in fassalnahu tafseelan
12. We have made the Night
And the Day as two
(Of Our) Signs: the Sign
Of the Night have We obscured,
While the Sign of the Day
We have made to enlighten
You; that ye may seek
Bounty from your Lord,
And that ye may know
The number and count
Of the years: all things
Have We explained in detail.
---

13. Wakulla insanin alzamnahu ta-irahu fee AAunuqihi wanukhriju lahu yawma alqiyamati kitaban yalqahu manshooran
13. Every man's fate
We have fastened
On his own neck:
On the Day of Judgment
We shall bring out
For him a scroll,
Which he will see
Spread open.
---

14. Iqra/ kitabaka kafa binafsika alyawma AAalayka haseeban
14. (It will be said to him:)
"Read thine (own) record:
Sufficient is thy soul
This day to make out
An account against thee."
---

15. Mani ihtada fa-innama yahtadee linafsihi waman dalla fa-innama yadillu AAalayha wala taziru waziratun wizra okhra wama kunna muAAaththibeena hatta nabAAatha rasoolan
15. Who receiveth guidance,
Receiveth it for his own
Benefit: who goeth astray
Doth so to his own loss:
No bearer of burdens
Can bear the burden
Of another: nor would We
Visit with Our Wrath
Until We had sent
An apostle (to give warning).
---

16. Wa-itha aradna an nuhlika qaryatan amarna mutrafeeha fafasaqoo feeha fahaqqa AAalayha alqawlu fadammarnaha tadmeeran
16. When We decide to destroy
A population, We (first) send
A definite order to those
Among them who are given
The good things of this life
And yet transgress; so that
The word is proved true
Against them: then (it is)
We destroy them utterly.
---

17. Wakam ahlakna mina alqurooni min baAAdi noohin wakafa birabbika bithunoobi AAibadihi khabeeran baseeran
17. How many generations
Have We destroyed. after Noah?
And enough is thy Lord
To note and see
The sins of His servants
---

18. Man kana yureedu alAAajilata AAajjalna lahu feeha ma nashao liman nureedu thumma jaAAalna lahu jahannama yaslaha mathmooman madhooran
18. If any do wish
For the transitory things
(Of this life), We readily
Grant them—such things
As We will, to such persons
As We will: in the end
Have We provided Hell
For them: they will burn
Therein, disgraced and rejected.
---

19. Waman arada al-akhirata wasaAAa laha saAAyaha wahuwa mu/minun faola-ika kana saAAyuhum mashkooran
19. Those who do wish
For the (things of) the
Hereafter,
And strive therefor
With all due striving,
And have Faith,—
They are the ones
Whose striving is acceptable
(To God).
---

20. Kullan numiddu haola-i wahaola-i min AAata-i rabbika wama kana AAatao rabbika mahthooran
20. Of the bounties of thy Lord
We bestow freely on all—
These as well as those:
The bounties of thy Lord
Are not closed (to anyone).
---

21. Onthur kayfa faddalna baAAdahum AAala baAAdin walal-akhiratu akbaru darajatin waakbaru tafdeelan
21. See how We have bestowed
More on some than on others;
But verily the Hereafter
Is more in rank and gradation
And more in excellence.
---

22. La tajAAal maAAa Allahi ilahan akhara fataqAAuda mathmooman makhthoolan
22. Take not with God
Another object of worship;
Or thou (O man!) wilt sit
In disgrace and destitution.'