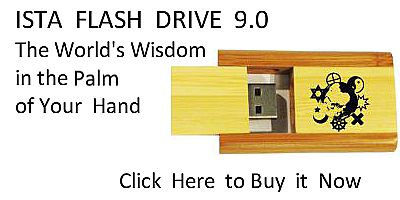 Sacred Texts
Islam
Index
Hypertext Qur'an
Unicode
Palmer
Pickthall
Yusuf Ali English
Rodwell
Sūra XV.: Al-Hijr, or The Rocky Tract. Index
Previous
Next
---


The Holy Quran, tr. by Yusuf Ali, [1934], at sacred-texts.com
---
Sūra XV.: Al-Hijr, or The Rocky Tract.
Section 4
---

45. Inna almuttaqeena fee jannatin waAAuyoonin
45. The righteous (will be)
Amid Gardens
And fountains
(Of clear-flowing water).
---

46. Odkhulooha bisalamin amineena
46. (Their greeting will be):
"Enter ye here
In Peace and Security."
---

47. WanazaAAna ma fee sudoorihim min ghillin ikhwanan AAala sururin mutaqabileena
47. And We shall remove
From their hearts any
Lurking sense of injury:
(They will be) brothers
(Joyfully) facing each other
On thrones (of dignity).
---

48. La yamassuhum feeha nasabun wama hum minha bimukhrajeena
48. There no sense of fatigue
Shall touch them,
Nor shall they (ever)
Be asked to leave.
---

49. Nabbi/ AAibadee annee ana alghafooru alrraheemu
49. Tell My servants
That I am indeed
The Oft-Forgiving,
Most Merciful;
---

50. Waanna AAathabee huwa alAAathabu al-aleemu
50. And that My Penalty
Will be indeed
The most grievous Penalty.
---

51. Wanabbi/hum AAan dayfi ibraheema
51. Tell them about
The guests of Abraham.
---

52. Ith dakhaloo AAalayhi faqaloo salaman qala inna minkum wajiloona
52. When they entered his presence
And said, "Peace!"
He said, "We feel
Afraid of you!"
---

53. Qaloo la tawjal inna nubashshiruka bighulamin AAaleemin
53. They said: "Fear not!
We give thee glad tidings
Of a son endowed
With wisdom."
---

54. Qala abashshartumoonee AAala an massaniya alkibaru fabima tubashshirooni
54. He said: "Do ye give me
Glad tidings that old age
Has seized me? Of what,
Then, is your good news?"
---

55. Qaloo bashsharnaka bialhaqqi fala takun mina alqaniteena
55. They said: "We give thee
Glad tidings in truth:
Be not then in despair!"
---

56. Qala waman yaqnatu min rahmati rabbihi illa alddalloona
56. He said: "And who
Despairs of the mercy
Of his Lord, but such
As go astray?"
---

57. Qala fama khatbukum ayyuha almursaloona
57. Abraham said: "What then
Is the business on which
Ye (have come), O ye
Messengers (of God)?"
---

58. Qaloo inna orsilna ila qawmin mujrimeena
58. They said: "We have been
Sent to a people
(Deep) in sin,
---

59. Illa ala lootin inna lamunajjoohum ajmaAAeena
59. "Excepting the adherents
Of Lūt: them we are certainly
(Charged) to save (from harm),—
All—
---

60. Illa imraatahu qaddarna innaha lamina alghabireena
60. "Except his wife, who,
We have ascertained,
Will be among those
Who will lag behind."