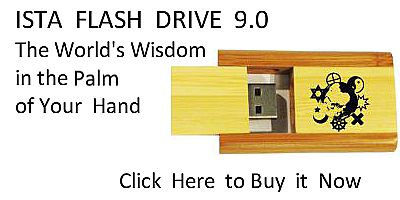 Sacred Texts
Islam
Index
Hypertext Qur'an
Unicode
Palmer
Pickthall
Yusuf Ali English
Rodwell
Sūra XV.: Al-Hijr, or The Rocky Tract. Index
Previous
Next
---


The Holy Quran, tr. by Yusuf Ali, [1934], at sacred-texts.com
---
Sūra XV.: Al-Hijr, or The Rocky Tract.
Section 3
---

26. Walaqad khalaqna al-insana min salsalin min hama-in masnoonin
26. We created man from sounding clay,
From mud moulded into shape;
---

27. Waaljanna khalaqnahu min qablu min nari alssamoomi
27. And the Jinn race, We had
Created before, from the fire
Of a scorching wind.
---

28. Wa-ith qala rabbuka lilmala-ikati innee khaliqun basharan min salsalin min hama-in masnoonin
28. Behold! thy Lord said
To the angels: "I am about
To create man, from sounding clay
From mud moulded into shape;
---

29. Fa-itha sawwaytuhu wanafakhtu feehi min roohee faqaAAoo lahu sajideena
29. "When I have fashioned him
(In due proportion) and breathed
Into him of My spirit,
Fall ye down in obeisance
Unto him.
---

30. Fasajada almala-ikatu kulluhum ajmaAAoona
30. So the angels prostrated themselves,
All of them together:
---

31. Illa ibleesa aba an yakoona maAAa alssajideena
31. Not so Iblīs: he refused to be
Among those who prostrated themselves.
---

32. Qala ya ibleesu ma laka alla takoona maAAa alssajideena
32. (God) said: "O Iblīs!
What is your reason
For not being among those
Who prostrated themselves?"
---

33. Qala lam akun li-asjuda libasharin khalaqtahu min salsalin min hama-in masnoonin
33. (Iblīs) said: "I am not one
To prostrate myself to man,
Whom Thou didst create
From sounding clay, from mud
Moulded into shape."
---

34. Qala faokhruj minha fa-innaka rajeemun
34. (God) said: "Then get thee out
From here; for thou art
Rejected, accursed.
---

35. Wa-inna AAalayka allaAAnata ila yawmi alddeeni
35. "And the Curse shall be
On thee till the Day of Judgment."
---

36. Qala rabbi faanthirnee ila yawmi yubAAathoona
36. (Iblīs) said: "O my Lord!
Give me then respite
Till the Day
The (dead) are raised."
---

37. Qala fa-innaka mina almunthareena
37. (God) said: "Respite
Is granted thee—
---

38. Ila yawmi alwaqti almaAAloomi
38. "Till the Day
Of the Time Appointed."
---

39. Qala rabbi bima aghwaytanee laozayyinanna lahum fee al-ardi walaoghwiyannahum ajmaAAeena
39. (Iblīs) said: "O my Lord!
Because Thou hast put me
In the wrong, I will
Make (wrong) fair-seeming
To them on the earth,
And I will put them
All in the wrong,—
---

40. Illa AAibadaka minhumu almukhlaseena
40. "Except Thy servants among them,
Sincere and purified
(By Thy grace)."
---

41. Qala hatha siratun AAalayya mustaqeemun
41. (God) said: "This (Way
Of My sincere servants) is
Indeed a Way that leads
Straight to Me.
---

42. Inna AAibadee laysa laka AAalayhim sultanun illa mani ittabaAAaka mina alghaweena
42. "For over My servants
No authority shalt thou
Have, except such as
Put themselves in the wrong
And follow thee."
---

43. Wa-inna jahannama lamawAAiduhum ajmaAAeena
43. And verily, Hell
Is the promised abode
For them all!
---

44. Laha sabAAatu abwabin likulli babin minhum juz-on maqsoomun
44. To it are seven Gates:
For each of those Gates
Is a (special) class
(Of sinners) assigned.