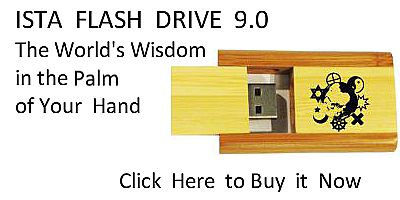 Sacred Texts
Islam
Index
Hypertext Qur'an
Unicode
Palmer
Pickthall
Yusuf Ali English
Rodwell
Sūra XIV.: Ibrāhīm, or Abraham. Index
Previous
Next
---


The Holy Quran, tr. by Yusuf Ali, [1934], at sacred-texts.com
---
Sūra XIV.: Ibrāhīm, or Abraham.
Section 7
---

42. Wala tahsabanna Allaha ghafilan AAamma yaAAmalu alththalimoona innama yu-akhkhiruhum liyawmin tashkhasu feehi al-absaru
42. Think not that God
Doth not heed the deeds
Of those who do wrong.
He but giveth them respite
Against a Day when
The eyes will fixedly stare
In horror,—
---

43. MuhtiAAeena muqniAAee ruoosihim la yartaddu ilayhim tarfuhum waaf-idatuhum hawa/on
43. They running forward
With necks outstretched,
Their heads uplifted, their gaze
Returning not towards them,
And their hearts a (gaping) void!
---

44. Waanthiri alnnasa yawma ya/teehimu alAAathabu fayaqoolu allatheena thalamoo rabbana akhkhirna ila ajalin qareebin nujib daAAwataka wanattabiAAi alrrusula awa lam takoonoo aqsamtum min qablu ma lakum min zawalin
44. So warn mankind
Of the Day when the Wrath
Will reach them: then will
The wrong-doers say: "Our Lord!
Respite us (if only)
For a short Term: we will
Answer Thy Call, and follow
The apostles!"
"What! were ye not wont
To swear aforetime that ye
Should suffer no decline?
---

45. Wasakantum fee masakini allatheena thalamoo anfusahum watabayyana lakum kayfa faAAalna bihim wadarabna lakumu al-amthala
45. "And ye dwelt in the dwellings
Of men who wronged their own
Souls; ye were clearly shown
How We dealt with them;
And We put forth (many) Parables
In your behoof!"
---

46. Waqad makaroo makrahum waAAinda Allahi makruhum wa-in kana makruhum litazoola minhu aljibalu
46. Mighty indeed were the plots
Which they made, but their plots
Were (well) within the sight
Of God, even though they were
Such as to shake the hills!
---

47. Fala tahsabanna Allaha mukhlifa waAAdihi rusulahu inna Allaha AAazeezun thoo intiqamin
47. Never think that God would fail
His apostles in His promise:
For God is Exalted in Power,—
The Lord of Retribution.
---

48. Yawma tubaddalu al-ardu ghayra al-ardi waalssamawatu wabarazoo lillahi alwahidi alqahhari
48. One day the Earth will be
Changed to a different Earth,
And so will be the Heavens,
And (men) will be marshalled
Forth, before God, the One,
The Irresistible;
---

49. Watara almujrimeena yawma-ithin muqarraneena fee al-asfadi
49. And thou wilt see
The Sinners that day
Bound together in fetters;—
---

50. Sarabeeluhum min qatranin wataghsha wujoohahumu alnnaru
50. Their garments of liquid pitch,
And their faces covered with Fire;
---

51. Liyajziya Allahu kulla nafsin ma kasabat inna Allaha sareeAAu alhisabi
51. That God may requite
Each soul according
To its deserts;
And verily God is Swift
In calling to account.
---

52. Hatha balaghun lilnnasi waliyuntharoo bihi waliyaAAlamoo annama huwa ilahun wahidun waliyaththakkara oloo al-albabi
52. Here is a Message for mankind:
Let them take warning therefrom,
And let them know that He
Is (no other than) One God
Let men of understanding
Take heed.